This classic Puerto Rican dessert has endured the test of time; it's lightened here by using less sugar. The name "tembleque" comes from its wiggly texture.
Coconut Mousse (Tembleque)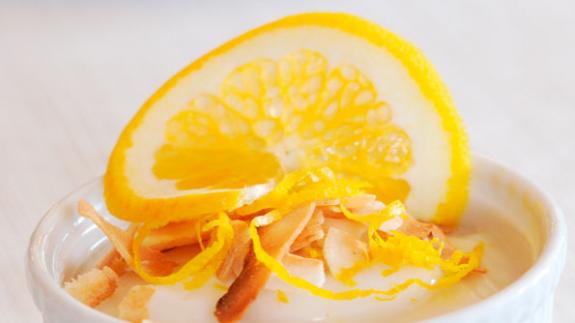 . Pour coconut milk into a heavy saucepan. Pour water into coconut-milk can, swish around, and add to saucepan, along with cornstarch, sugar, and salt; whisk until smooth. Stir constantly with a wooden spoon over medium heat until thickened, 5–7 minutes. Do not let it boil. Usually it is ready right before it starts boiling. Remove from heat. Stir in orange zest and let it rest for 2 minutes.

Coat four ½-cup ramekins with cooking spray and divide coconut mixture among them. Refrigerate for 3 hours or until set. Unmold and serve cold, decorated with coconut flakes and orange slices.
Nutrition Facts
Coconut Mousse (Tembleque)
Amount Per Serving
Calories 165
Calories from Fat 45
% Daily Value*
Total Fat 5g 8%
Sodium 145mg 6%
Total Carbohydrates 23g 8%
* Percent Daily Values are based on a 2000 calorie diet.
PER SERVING: 165 cal, 5g fat (0g mono, 0g poly, 5g sat), 0mg chol, 0g protein, 23g carb, 0g fiber, 145mg sodium