An addictive snack or side dish. Plantains look like large green bananas but have a higher starch content and milder taste. Ripe plantains are yellow with black patches and may appear bruised. To peel a plantain, first cut off the ends, and then make five lengthwise slits in the peel, trying to avoid cutting deeply into the flesh. Lift up the tip of the peel and run your thumb along one of the slits, pulling back and removing the peel.
Cinnamon-Spiced Grilled Plantains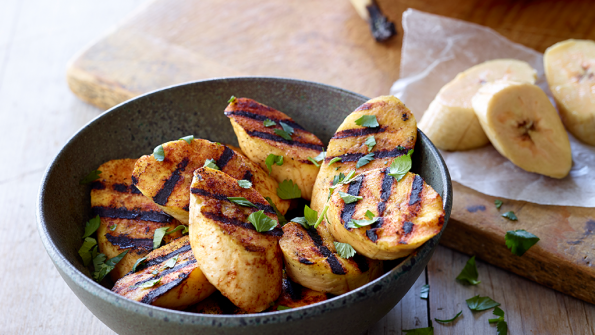 Spray a wire baking rack and grill with cooking spray; place rack on grill and then preheat to medium-high.

Slice each plantain on the bias into 1/2- to 1-inch-thick pieces and place in a bowl. Toss with lime juice. Combine chili powder and cinnamon; dust over plantains and toss.

Place plantains on wire rack and cook slowly, turning often, until slightly crisp, about 10 minutes. Transfer to a bowl or platter and sprinkle with herbs or green onion, if using.
Nutrition Facts
Cinnamon-Spiced Grilled Plantains
Amount Per Serving
Calories 112
% Daily Value*
Sodium 10mg 0%
Total Carbohydrates 30g 10%
Protein 1g 2%
* Percent Daily Values are based on a 2000 calorie diet.
PER SERVING: 112 cal, 0g fat (0g mono, 0g poly, 0g sat), 0mg chol, 1g protein, 30g carb, 3g fiber, 10mg sodium