This recipe reminds me of my trips to Brazil and time spent with my husband's loving family. I love the soft and chewy texture and cheesy flavor of my gluten-free Pão de Queijo recipe—and also like how it's low in lactose, which is great for anyone with lactose intolerance or Irritable Bowel Syndrome (IBS) following the low-FODMAP diet.
– Colleen Francioli, FODMAPlife.com
(gluten free, staff favorite)
Pão de Queijo (Brazilian Cheese Bread)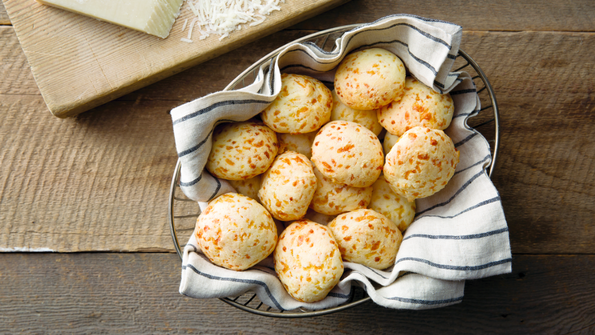 Preheat oven to 450°. In a 2-quart saucepan, combine milk, oil and salt. Whisk occasionally, and bring to a slow boil over medium heat. Once large bubbles appear in milk, remove from heat.

Add tapioca flour to saucepan. Stir until no more dry tapioca flour remains and dough has a gelatinous texture. Transfer dough to the bowl of a stand mixer fitted with a paddle attachment. Beat at medium speed for 1–2 minutes or until smooth.

In a small bowl, whisk eggs. With mixer at medium speed, slowly add eggs to dough. Use a spatula to scrape down any dough stuck to sides of bowl. With mixer on medium speed, add cheese, and mix until fully incorporated and dough is sticky, stretchy and soft.

Roll a generous tablespoon of dough between your palms to make golf ball–size rounds. Space the rounds 1–2 inches apart on a parchment-lined baking sheet. (TIP: As you are making balls of dough, dip your fingers into a bowl of olive oil or coconut oil to keep dough from sticking to your hands.)

Reduce heat to 350° just before putting dough balls in the oven. Bake for 25–30 minutes. Remove dough balls once the outsides are dry and just starting to color with orange flecks.
Nutrition Facts
Pão de Queijo (Brazilian Cheese Bread)
Amount Per Serving
Calories 192
Calories from Fat 54
% Daily Value*
Total Fat 6g 9%
Cholesterol 17mg 6%
Sodium 168mg 7%
Total Carbohydrates 8g 3%
Protein 3g 6%
* Percent Daily Values are based on a 2000 calorie diet.
PER SERVING (1 bread ball): 92 cal, 6g fat (1g mono, 0g poly, 5g sat), 17mg chol, 168mg sodium, 8g carb (0g fiber, 0g sugars), 3g protein