Made with sunflower seeds and seasoned with sage, this entrée works well for a turkey substitute when topped with your favorite raw cranberry sauce; or serve on dehydrated raw bread with vegan mayonnaise. Coconut meat is placed on top of this burger before dehydrating for extra texture. It's easy to use fresh young Thai coconuts, but if you don't have one, don't fret; this burger is just as delicious without it.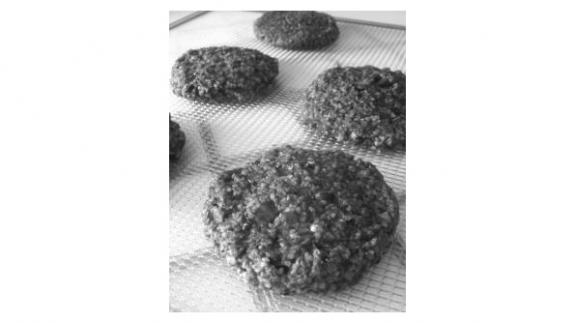 Place sunflower seeds and garlic in a food processor. Process into small pieces. Add celery, oil, salt, sage, and pepper, and process to mix well. Set aside.

Place coconut meat in four flat bunches on a 14-inch-square Excalibur Dehydrator tray, so you can then place patties on top. Form sunflower mixture into four patties, about 3/4-inch thick. Place on top of coconut meat. Dehydrate for 2 to 3 hours at 104°F. Flip with coconut meat attached and dehydrate for another 2 or 3 hours.
From Ani's Raw Food Essentials by Ani Phyo (Da Capo Lifelong, 2010). Excerpted by arrangement with Da Capo Lifelong, a member of the Perseus Books Group
www.AniPhyo.com
www.Twitter.com/AniPhyo
Photo by Tyler Golden.