Jazz up your standard salsa routine with fresh summer blueberries and pineapple.
U.S. Highbush Blueberry Council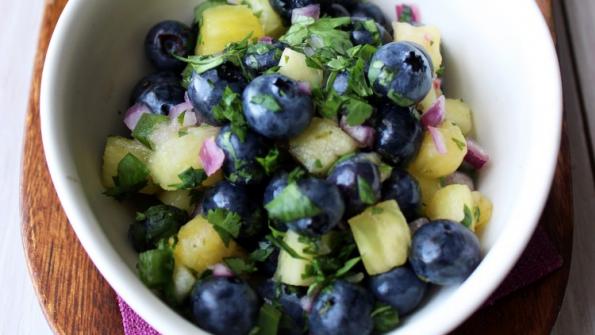 Combine blueberries, pineapple, jalapeño, 2 tablespoons of the lime juice, lime zest, cilantro and red onion.

Season with salt and additional lime juice as needed.

Serve with tortilla chips or as an accompaniment to fish or chicken.
Nutrition Facts
U.S. Highbush Blueberry Council
Amount Per Serving
Calories 40
Calories from Fat 18
% Daily Value*
Total Fat 2g 3%
Total Carbohydrates 10g 3%
Protein 5g 10%
* Percent Daily Values are based on a 2000 calorie diet.
PER SERVING: 40 calories, 0.5g protein, 10g carb, 1.5g fiber, 0.2g fat (0g sat fat)