Fish from lakes and the Mediterranean have been important food sources throughout Israel's history, and this simple preparation is typical of the region. Prep tip: Traditionally, fish such as St. Peter's fish (tilapia), found in the Sea of Galilee, would be used, but you can choose any firm white fish of medium thickness.
Baked White Fish with Tomato and Dill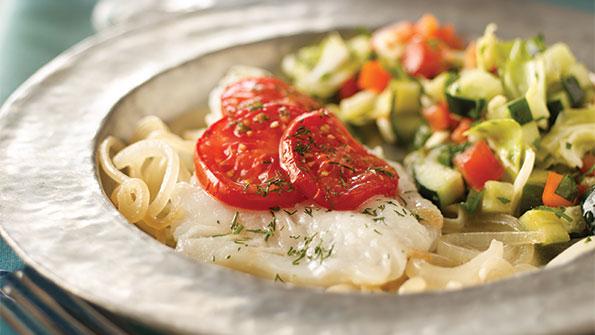 Preheat oven to 400˚. Pat fish dry with paper towels. Sprinkle with salt and pepper.

Melt 1/2 tablespoon butter in a small sauté pan. Add onions and cook until slightly softened and lightly browned. Spread cooked onions evenly over the bottom of a baking dish. Arrange fish fillets over onion. Top with tomato slices and sprinkle with chopped dill. Dot with remaining butter, and drizzle with lemon juice. Bake for 15 minutes, or until fish is cooked and flakes easily with a fork.
Nutrition Facts
Baked White Fish with Tomato and Dill
Amount Per Serving
Calories 213
% Daily Value*
Cholesterol 57mg 19%
Sodium 80mg 3%
Total Carbohydrates 5g 2%
Protein 30g 60%
* Percent Daily Values are based on a 2000 calorie diet.
PER SERVING: 213 cal, 33% fat cal, 8g fat (2g mono, 1g poly, 3g sat), 57mg chol, 30g protein, 5g carb, 1g fiber, 80mg sodium
Back to Recipes for peace.