This simple, nourishing dish marries bitter greens with soft, creamy eggs. If grilling isn't an option, broil the greens on a baking sheet in the oven. For heartier appetites, top each plate with two eggs.
Grilled Escarole with Soft-Poached Eggs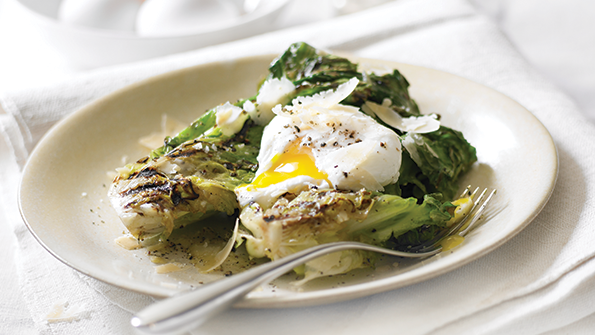 Preheat grill or grill pan to medium-high. Cut escarole heads into quarters lengthwise, cutting through core but leaving core attached to leaves.

In a small bowl, combine olive oil with garlic, pepper, and salt. Lightly coat outsides of escarole with oil mixture. Grill, turning once or twice, until wilted and grill marks appear, 4–7 minutes. (If broiling, cook for 4–5 minutes per side, until edges are lightly browned and greens are tender.)

While greens are cooking, combine 3 inches of water and the vinegar in a large sauté pan. Bring to a boil; reduce heat to a simmer, so the surface just shimmers. Crack one egg into a cup and gently lower into water. Use a spoon to "corral" whites around yolk. Cook for 3–4 minutes, until just set but still soft. Remove with a slotted spoon. (If you have a large pan, cook all four eggs at once; just be sure not to crowd.)

To serve, arrange two escarole segments on each plate. Place one egg on top of greens. Sprinkle liberally with pepper and lightly with salt. Scatter cheese over greens, and serve hot.
Nutrition Facts
Grilled Escarole with Soft-Poached Eggs
Amount Per Serving
Calories 234
Calories from Fat 135
% Daily Value*
Total Fat 15g 23%
Cholesterol 222mg 74%
Sodium 462mg 19%
Total Carbohydrates 10g 3%
Protein 14g 28%
* Percent Daily Values are based on a 2000 calorie diet.
PER SERVING: 234 cal, 15g fat (8g mono, 2g poly, 5g sat), 222mg chol, 14g protein, 10g carb, 8g fiber, 462mg sodium