Recipe courtesy of Numi Organic Tea
Mornings can be rough. First, you gotta wake up and then you have the daunting task of getting out of bed. Who needs it?! On top of all that, you should probably eat breakfast.
While I cannot help you with the first two things, this recipe makes the last one easy (and tasty). And as we get ready to enter into summer, what better way to have a meal than on a stick! Oh, and did I mention it is packed with turmeric?
While you can make this recipe in a blender if you like, a food processor is best for consistent results.
Turmeric Cocoa Breakfast Pops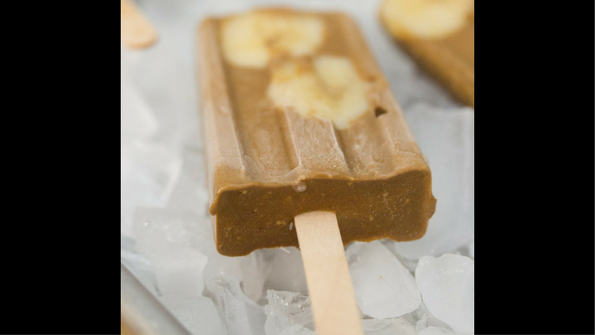 To start, add the rolled oats and pulse until they are ground to a flour like consistency. Add in the cocoa and turmeric latte mix, and pulse a few times.

Add in 1 full banana and one half banana, cut into chunks, along with the cashew milk and peanut butter. Puree until the mixture is smooth.

Thinly slice the remaining banana and line the inside of the popsicle mold with the slices. This mixture makes about six popsicles

Divide the mixture between the molds and add the popsicle sticks.

Freeze the pops for at least six hours before serving. To remove the popsicles from the mold, fill your sink with room temperature water, just enough to submerge the mold in. Dunk, but don't submerge, the mold in 20 second intervals, until the pops can easily be removed.