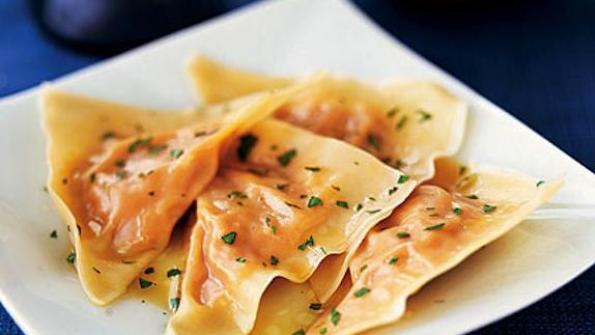 ½

cup

extra-firm tofu, drained

6

tablespoons

tomato paste

1

cup

semolina flour

½

cup

whole-grain flour

½

teaspoon

minced garlic

1 ½

teaspoons

dried basil

½

teaspoon

Bragg Sprinkle

¼

teaspoon

Bragg Liquid Aminos

1

tablespoon

Bragg Organic Olive Oil

1

(25-ounce) jar

tomato sauce
½

cup

extra-firm tofu, drained

6

tablespoons

tomato paste

1

cup

semolina flour

½

cup

whole-grain flour

½

teaspoon

minced garlic

1 ½

teaspoons

dried basil

½

teaspoon

Bragg Sprinkle

¼

teaspoon

Bragg Liquid Aminos

1

tablespoon

Bragg Organic Olive Oil

1

(25-ounce) jar

tomato sauce

Print Recipe
In a food processor, combine tofu and tomato paste. Add flours, garlic, basil, Bragg Sprinkle, and Bragg Liquid Aminos. Add olive oil and blend until dough sticks together. Turn dough onto a flat surface sprinkled with flour. Knead until smooth, about 3 minutes. Place dough in a plastic bag and set aside for 1 hour.

Divide dough into four equal portions. Place one portion on a lightly floured board (return remaining portions to plastic bag for future pastas). Flatten dough into an oval and roll into an oblong sheet, about 7x16 inches. Dough should be thin, but not translucent. Divide pasta sheets crosswise and set aside on waxed paper to dry in a warm place for about 30 minutes, or until it is dry and pliable, but not brittle.

For filled pasta, roll dough on floured board to about 1/8 inch thick. Sprinkle dough lightly with flour and roll up loosely. Use a sharp knife to cut type of pasta desired. Remember that pasta will swell about doubled when cooked, so cut to about half the diameter desired. Allow the cut pasta to dry by tossing into a loose pile of flour and placing flat on waxed paper in the open air for at least an hour. This will prevent the pasta from sticking after it has been cut and keep firm after cooking. To prepare pasta, cook in boiling water for 8-10 minutes. Serves 4-6.
Note: This recipe has not been tested in the Delicious Living kitchens.