Prep tips: Baked, roasted, or canned sweet potatoes work equally well; just adjust the amount of flour to make a stiff dough. If you're using sweet potatoes from a leftover roasted vegetable dish, include other veggies, such as carrots and parsnips, for extra flavor.
Sweet Potato Pancakes with Rosemary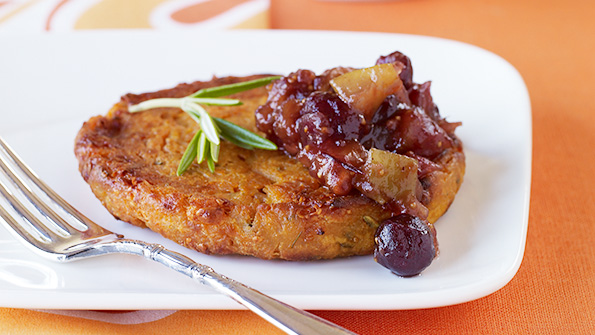 Preheat oven to 400°. In a medium bowl, mash together sweet potatoes and egg. Add flour and mix well. Stir in cheese, salt, pepper, and rosemary. Add additional flour if needed to make a stiff dough. Form into six patties and place in a baking dish coated with 1 tablespoon olive oil. Bake for 12–14 minutes, until golden. Flip pancakes over and flatten gently with a spatula. Brush tops with remaining olive oil and bake for 7–8 minutes more, until crispy. Serve hot.
Nutrition Facts
Sweet Potato Pancakes with Rosemary
Amount Per Serving
Calories 190
* Percent Daily Values are based on a 2000 calorie diet.
Nutrition Facts Per Serving:
Calories: 190 calories
% fat calories: 35
Fat: 7g
Saturated Fat: 2g
Cholesterol: 41mg
Protein: 6g
Carbohydrate: 25g
Fiber: 3g
Sodium: 240mg