Floral-scented honey, such as orange blossom, complements the berries best. If you have other ripe, sweet seasonal fruit, such as peaches or nectarines, replace some of the strawberries with them.
Staff Favorite, Gluten Free, Veggie, Quick
Strawberry Salad with Honey and Basil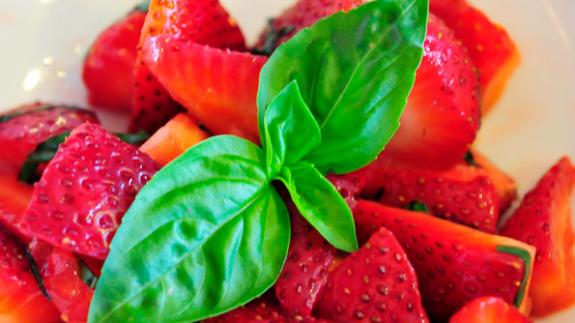 Wash strawberries, pat dry, and quarter; place in a medium bowl. Stack basil leaves on top of one another, roll, and then cut crosswise into thin slices (this is called chiffonade). Sprinkle basil over strawberries and fold in gently.

Whisk together honey and lemon juice. Pour over strawberries; fold gently. Let stand 10 minutes to meld flavors before serving.
Nutrition Facts
Strawberry Salad with Honey and Basil
Amount Per Serving
Calories 41
% Daily Value*
Total Carbohydrates 11g 4%
Protein 1g 2%
* Percent Daily Values are based on a 2000 calorie diet.
PER SERVING: 41 cal, 0g fat (0g mono, 0g poly, 0g sat), 0mg chol, 1g protein, 11g carb, 2g fiber, 0mg sodium