Serve these hearty patties any time of day with an over-easy egg, avocado, or any of your favorite condiments. Whole buckwheat is sold unroasted (called groats) with a pale greenish-white hue, or roasted (called kasha) to a deep mahogany color and a strong, almost scorched flavor.
To cook buckwheat groats, toast in a dry pan over medium heat for about 5 minutes; then add double the amount of water, bring to a boil, reduce heat, and simmer until all the water is absorbed, 15 minutes. One cup dried buckwheat yields about 3 1/2 cups cooked.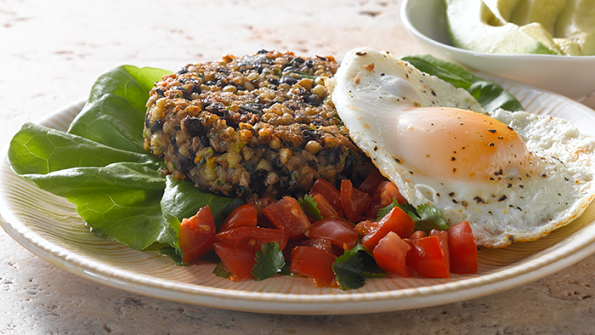 In a large bowl, mix together all ingredients except oil. Add a pinch of salt, to taste. Pulse mixture in a food processor for a few seconds to blend; do not purée (leave some texture).

Generously coat a large skillet or griddle with oil and place over medium-high heat. Using your hands, mold buckwheat mixture into six patties. Placein skillet, leaving at least 1 inch between them (cook in batches if needed). Let cook, undisturbed, for 5 minutes or until well-browned on one side. Using a wide spatula, gently flip burgers and cook the other side for 4 minutes or until browned. Serve burgers hot.
Nutrition Facts
Savory Buckwheat Burgers
Amount Per Serving
Calories 221
Calories from Fat 27
% Daily Value*
Total Fat 3g 5%
Cholesterol 31mg 10%
Sodium 170mg 7%
Total Carbohydrates 43g 14%
Protein 10g 20%
* Percent Daily Values are based on a 2000 calorie diet.
PER SERVING: 221 cal, 3g fat (1g mono, 1g poly, 1g sat), 31mg chol, 10g protein, 43g carb, 8g fiber, 170mg sodium