If you've got five minutes, you can make this fragrant oil; it's a delightful and useful gift for anyone who loves salads or bread dips.
Rosemary-Garlic Infused Olive Oil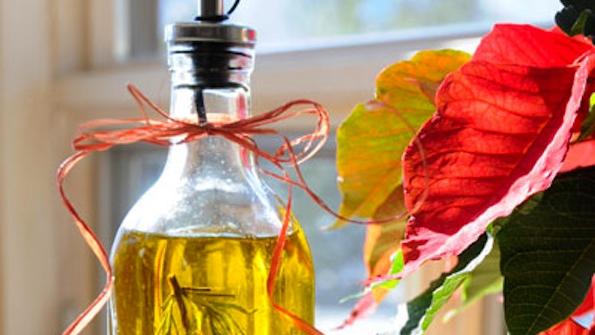 Using the bottom of a jar, slightly crush rosemary sprigs and garlic cloves to release oils. Insert into a decorative jar or carafe and pour in olive oil, leaving a little space at the top; seal. Let sit one week before using.
Nutrition Facts
Rosemary-Garlic Infused Olive Oil
Amount Per Serving
Calories 120
Calories from Fat 117
% Daily Value*
Total Fat 13g 20%
* Percent Daily Values are based on a 2000 calorie diet.
PER SERVING (1 tablespoon): 120 cal, 13g fat (10g mono, 1g poly, 2g sat), 0mg chol, 0g protein, 0g carb, 0g fiber, 0mg sodium