Roasted Red Pepper & Tomato Soup with Paprika-Rubbed Croutons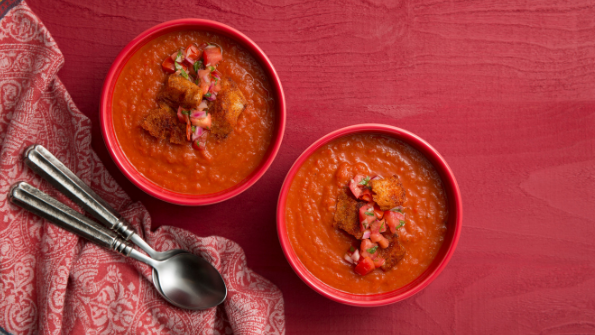 Vegan, Dairy free, Staff favorite
FOR THE FRESH SALSA TOPPER
1

small red onion, diced

1

tablespoon

chopped fresh parsley

1

tablespoon

chopped fresh basil

2

teaspoons

red wine vinegar

1

clove

garlic, minced

1

teaspoon

extra-virgin olive oil

Pinch

of sea salt

⅛

teaspoon

cayenne pepper
2

tablespoons

extra-virgin olive oil

1½

teaspoons

paprika

6

ounces

sourdough bread or baguette, cubed
2

red bell peppers, stems and seeds removed, sliced into strips

1

yellow onion, peeled and sliced

2

tablespoons

olive oil

¼

teaspoon

salt

2

cloves

garlic, peeled and smashed

1

(28-ounce) can

crushed tomatoes with basil

1

(14.5-ounce) can

white cannellini beans, rinsed and drained

1

(14.5-ounce) can

reduced-sodium chicken or vegetable broth
FOR THE FRESH SALSA TOPPER

1

small red onion, diced

1

tablespoon

chopped fresh parsley

1

tablespoon

chopped fresh basil

2

teaspoons

red wine vinegar

1

clove

garlic, minced

1

teaspoon

extra-virgin olive oil

Pinch

of sea salt

⅛

teaspoon

cayenne pepper

2

tablespoons

extra-virgin olive oil

1½

teaspoons

paprika

6

ounces

sourdough bread or baguette, cubed

2

red bell peppers, stems and seeds removed, sliced into strips

1

yellow onion, peeled and sliced

2

tablespoons

olive oil

¼

teaspoon

salt

2

cloves

garlic, peeled and smashed

1

(28-ounce) can

crushed tomatoes with basil

1

(14.5-ounce) can

white cannellini beans, rinsed and drained

1

(14.5-ounce) can

reduced-sodium chicken or vegetable broth

Print Recipe
Make the salsa topping: Combine Roma tomatoes, red onion, parsley, basil, red wine vinegar, garlic, olive oil, salt and cayenne pepper in a bowl. Set aside.

Make the croutons: Preheat oven to 375°, and line a rimmed baking sheet with parchment paper. Mix olive oil and paprika in a small bowl. Toss bread cubes in a medium bowl with olive oil mixture. Spread onto prepared baking sheet; bake for 15–20 minutes, turning once halfway through, until golden. Set aside to cool.

Increase oven temperature to 400°. Place red bell pepper and onion slices onto a rimmed baking sheet, toss with olive oil and sprinkle with salt. Roast for 20–22 minutes or until soft and just starting to brown.

Meanwhile, add garlic, tomatoes, beans and broth to a large pot. Bring to a simmer over medium heat. Simmer for 15 minutes. Add roasted peppers and onions, and stir to combine.

Purée with an immersion blender, or let cool slightly and use a traditional blender. Serve warm, topped with croutons and salsa.