From Tory McPhail, executive chef, Commander's Palace, New Orleans. "I've always known that New Orleans is the place where I want to be," says McPhail, who started his career in the Big Easy more than ten years ago. At Commander's Palace, McPhail serves this harvest-fruit cobbler sweetened with sugar-cane syrup produced by a local farmer, but pure maple syrup also works beautifully. If pears or apples are not available in your area, use fruit that's at its peak of season—"whatever's ripe and full of flavor."
Roasted Pear and Apple Cobbler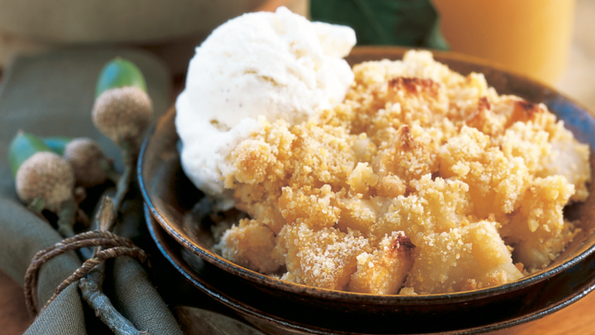 4-6

pears, peeled and diced

4-6

Golden Delicious apples, peeled and diced

1/2

teaspoon

salt

2

tablespoons

sugar-cane or pure maple syrup

2 1/4

cups

all-purpose flour

3/4

cup

cornmeal

1/4

cup

granulated sugar

3/4

teaspoon

baking powder

3/4

teaspoon

baking soda

3

tablespoons

unsalted butter, diced small

2 1/4

cups

low-fat or nonfat buttermilk

1/2

cup

sugar-cane or pure maple syrup

STREUSEL TOPPING

2

tablespoons

light brown sugar

2

tablespoons

granulated sugar

3

tablespoons

unsalted butter, finely diced

3/4

cup

all-purpose flour

1/4

cup

cornmeal

Powdered sugar and vanilla ice cream
4-6

pears, peeled and diced

4-6

Golden Delicious apples, peeled and diced

1/2

teaspoon

salt

2

tablespoons

sugar-cane or pure maple syrup

2 1/4

cups

all-purpose flour

3/4

cup

cornmeal

1/4

cup

granulated sugar

3/4

teaspoon

baking powder

3/4

teaspoon

baking soda

3

tablespoons

unsalted butter, diced small

2 1/4

cups

low-fat or nonfat buttermilk

1/2

cup

sugar-cane or pure maple syrup

STREUSEL TOPPING

2

tablespoons

light brown sugar

2

tablespoons

granulated sugar

3

tablespoons

unsalted butter, finely diced

3/4

cup

all-purpose flour

1/4

cup

cornmeal

Powdered sugar and vanilla ice cream

Print Recipe
Preheat oven to 450º. In a large bowl, combine diced pears and apples with salt and 2 tablespoons syrup. Mix gently. Place fruit on baking sheet and roast for 15 minutes, until fruit is caramelized on all sides.

While fruit is roasting, combine flour, cornmeal, sugar, baking powder, and baking soda in another mixing bowl and blend. Add diced butter and blend together, making sure all cubes are separated. Add buttermilk and fold together until just incorporated. Do not over-mix. Batter should be the consistency of thick pancake batter.

In a separate bowl, combine all streusel ingredients and mix together by hand until crumbly.

Reduce oven heat to 350º. Prepare a 9x13-inch baking dish with cooking spray. Spread batter evenly in pan. Remove warm fruit from oven and place evenly on top of batter. Sprinkle streusel topping over fruit. Bake cobbler at 350º for 20–25 minutes.

When cobbler looks golden and hot, remove from oven. Pour remaining 1/2 cup syrup over cobbler and let cool for 10 minutes. If desired, sprinkle with powdered sugar and serve with vanilla ice cream.