Makes 1 cup / This orange-scented spread is a festive, flavorful alternative to butter, with zero saturated fat. It's fantastic on the Quinoa-Corn Muffins.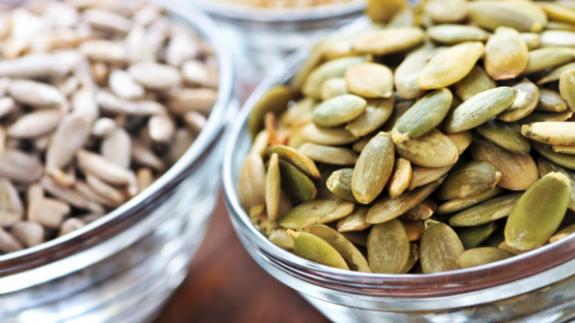 Boil or steam carrot until very tender. Drain and set aside.

Meanwhile, heat a medium skillet over medium heat. Add pumpkin seeds and toast, stirring or shaking pan frequently, until seeds turn from green to brown and begin to pop. Pour seeds into a food processor. Let cool briefly until merely warm. Process seeds into a fine powder.

Add carrot, tofu, honey, salt, orange zest, and cinnamon to food processor. Process until smooth, about 2 minutes, scraping sides of bowl a few times.
Nutrition Facts
Pumpkin Seed Spread
Amount Per Serving
Calories 137
% Daily Value*
Sodium 78mg 3%
Total Carbohydrates 3g 1%
Protein 2g 4%
* Percent Daily Values are based on a 2000 calorie diet.
PER SERVING (1 tablespoon): 37 cal, 51% fat cal, 2g fat, 0g sat fat, 0mg chol, 2g protein, 3g carb, 0g fiber, 78mg sodium