Perhaps nothing signals the arrival of spring better than delicious rhubarb. The tart vegetable (yes, you read that right) that we think of as a fruit lends itself to gentle poaching to coax out its flavour. It's just waiting to be combined with a host of herbs and aromatics to make it even more luscious.
Sustainability cred

Rhubarb is a cool-season crop that is often available close to home. Selecting seasonal fruit reduces the need for heating, refrigeration, artificial lighting, pesticides, and increased transport. While rhubarb's season may be short, the plant is a perennial that can produce for years.
Tip: Serve your poached rhubarb with a flourish by adding a dried orange slice on top. To dry orange slices, simply place thin slices on baking sheet in a 300 F (150 C) oven for about 2 hours, until dried.
Poached Rhubarb with Cinnamon, Mint, and Ginger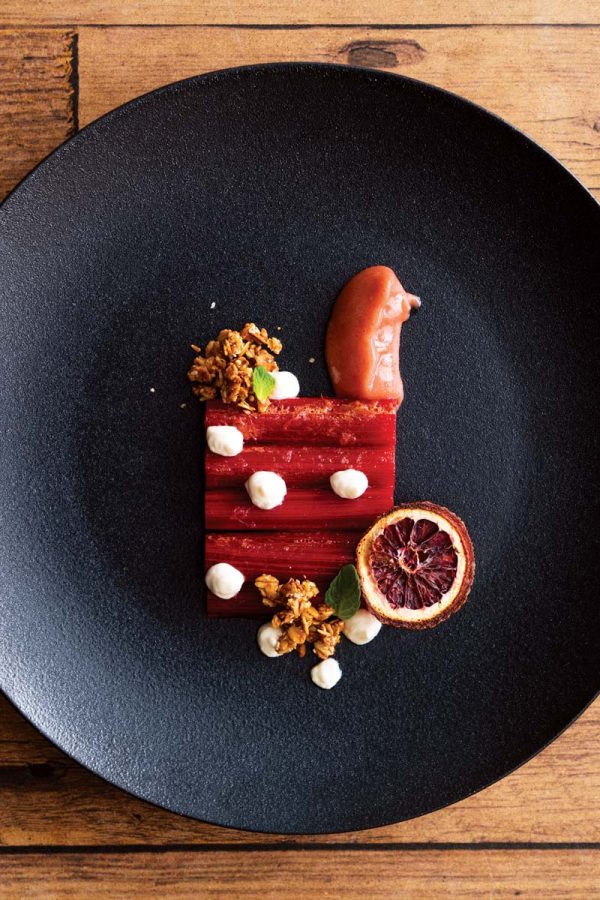 Preheat oven to 375 F (190 C).

In shallow 10 x 10 x 3 in (26 x 26 x 8 cm) baking pan, arrange rhubarb in one layer. Cut ginger in 3 or 4 chunks and add to pan along with cinnamon stick and mint sprig.

In small bowl or jug, mix together orange juice, water, and honey. Pour over rhubarb mixture.

Place baking tray in preheated oven and poach for approximately 20 to 30 minutes. Rhubarb is done when it is fork tender but still retains its shape. Serve over porridge, yogurt, and/or granola, or use as a dessert topping or cake filling.
Each serving contains: 86 calories; 2 g protein; 0 g total fat (0 g sat. fat); 21 g total carbohydrates (15 g sugars, 2 g fibre); 8 mg sodium