Speed is always desirable when you're cooking campside, and this layered polenta dish assembles fast and easily when the troops are hungry. Serve in large dollops with a simple green salad and French bread.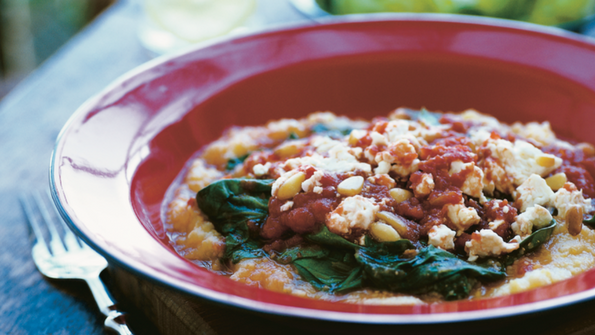 Place pine nuts in a hot skillet and stir constantly until nuts just begin to turn brown. Remove.

Break polenta into small clumps in a large, deep, nonstick saucepan over low fire or heat. Add stock in small splashes, stirring constantly until polenta is smooth and thick.

Keeping heat very low, add greens, then tomatoes and their liquid, in a layer on top of the hot polenta. Do not stir.

Add feta and pine nuts. Cover and let stand over lowest possible heat until greens have steamed and cheese has begun to melt, about 5 minutes.
Camp Tip: Lighten your load early by serving this hearty dish as your first-night meal. For a Southwestern twist, add a small can of diced green chilies and substitute Monterey Jack for the feta.