This dish makes a delightful lunch or brunch and a nice helping of vitamin D. It cooks up in minutes and delivers the satisfaction of good old bacon and eggs. Just a hint of chili and the tiniest bit of serrano ham bring tons of flavor to the hearty cabbage.
Perfect poached eggs

Crack eggs into individual ramekins or small heatproof glasses. Fill a medium-sized saucepan with water and add 1/4 cup vinegar. Cover the saucepan and place it on high heat.

When little bubbles start to stream upward in the water, but water is not quite boiling, stir the water rapidly to create a circular "whirlpool." Holding the ramekin close to the water, gently and quickly drop each egg into the water before the "whirlpool" subsides. This action, along with the vinegar, helps the egg white gather around the yolk. Keep the water at a simmer. If the water starts to boil, reduce the heat.

The eggs are done when they float to the surface of the water, usually by about 4 minutes, and when the yolk is still soft and the white is set.
Poached Egg with Savoy Cabbage and Serrano Ham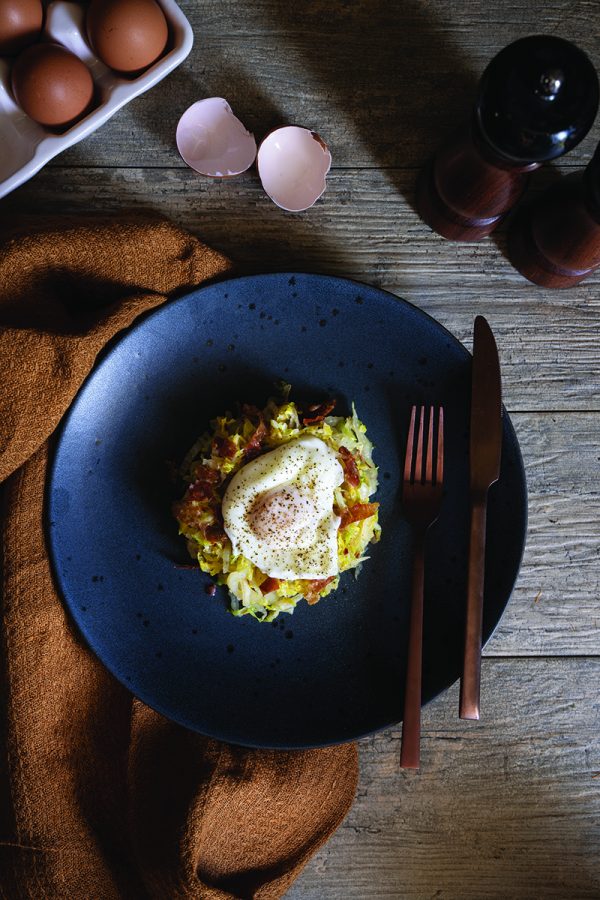 In medium skillet, on medium heat, fry ham in olive oil until crispy, about 3 minutes. Add dried pepper flakes and stir for 30 seconds. Rinse and drain cabbage, leaving it slightly wet, and add to pan, stirring for a few seconds while increasing the heat to high. Cover with a lid and allow cabbage to steam for about 30 seconds.

Add broth and simmer on high, uncovered, stirring occasionally, until all liquid has evaporated, about 3 to 5 minutes. Divide cabbage between 2 plates and keep warm.

Meanwhile, poach 2 eggs (see tip). When ready, use a slotted spoon to scoop up each egg. Hold spoon over water for a few seconds to allow any excess water to drain off and then gently place each egg on a bed of cabbage. Serve with plenty of cracked pepper.
Per serving: 185 calories; 10 g protein; 12 g total fat (3 g sat. fat); 11 g total carbohydrates (6 g sugars, 4 g fiber); 287 mg sodium