You haven't been to Puerto Rico if you haven't tried mofongo, green plantain that's fried, mashed, and seasoned. A signature dish in most local restaurants, it's the perfect accompaniment for stew or fricassee. Chef Giovanna seasons it with garlic and boils it instead of frying to make it healthier while still retaining its unique flavor.Mofongo is also made with yucca, yams, and sweet potatoes, and it's usually mashed and formed into patties just before serving.
Plantain patties (Mofongo)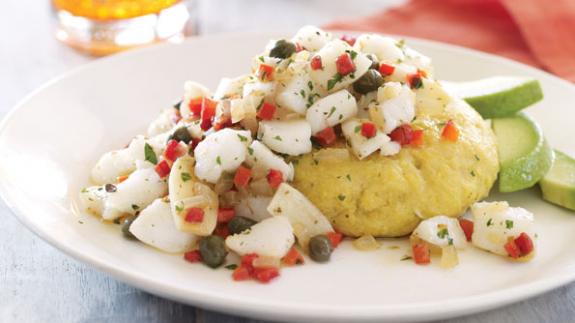 Soak plantains in salted water for 30–60 minutes; drain. In a heavy saucepan, arrange plantains and add milk, plus just enough water to cover. Bring to a boil, reduce heat, cover, and simmer until tender, 15–20 minutes. Drain, reserving liquid.

Mince garlic in a large food processor (or mortar). While still warm, add plantains and pulse (or mash) with a little olive oil, adding reserved liquid as needed, until plantains are soft and mashed; they will somewhat harden after a few minutes. Taste and adjust seasoning with salt and pepper. Form into six thick patties and serve warm, topped with Escabeche or Mojito Fish.
Nutrition Facts
Plantain patties (Mofongo)
Amount Per Serving
Calories 127
Calories from Fat 18
% Daily Value*
Total Fat 2g 3%
Sodium 5mg 0%
Total Carbohydrates 29g 10%
Protein 1g 2%
* Percent Daily Values are based on a 2000 calorie diet.
PER SERVING: 127 cal, 2g fat (1g mono, 0g poly, 0g sat), 0mg chol, 1g protein, 29g carb, 2g fiber, 5mg sodium