Financier is the most regal of cakes, made with nut flours and lots of butter. As if it needed more, Eric Skokan paired it here with poached pears and freshly grated bitter chocolate. The combination is stunning. Financier is best eaten fresh, still warm from the oven. Try freezing the leftovers, if you like (there rarely are any, though.)
Pistachio Financier with Pear & Chocolate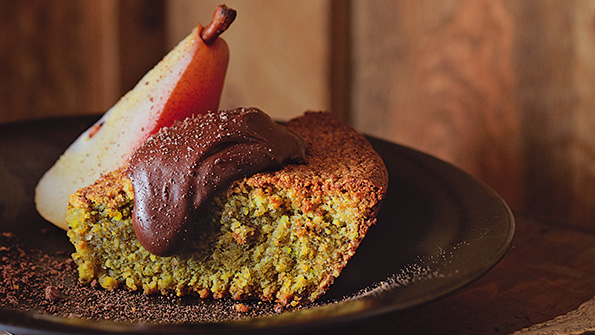 3

cups

raw pistachios

1 1/4

cups

all-purpose flour

2

cups

sugar

1

teaspoon

salt

1/2

pound

unsalted butter, softened

4

large

eggs

2

cups

white wine

2

pieces

star anise

1

cinnamon

stick

2

cardamom

pods

4

pears

peeled

1

cup

chopped bittersweet chocolate or chocolate chips

Pinch

of

ground nutmeg

Pinch

of

ground cardamom

Pinch

of

ground cinnamon

1

cup

heavy cream

Unsweetened

chocolate,

finely grated, for garnish
3

cups

raw pistachios

1 1/4

cups

all-purpose flour

2

cups

sugar

1

teaspoon

salt

1/2

pound

unsalted butter, softened

4

large

eggs

2

cups

white wine

2

pieces

star anise

1

cinnamon

stick

2

cardamom

pods

4

pears

peeled

1

cup

chopped bittersweet chocolate or chocolate chips

Pinch

of

ground nutmeg

Pinch

of

ground cardamom

Pinch

of

ground cinnamon

1

cup

heavy cream

Unsweetened

chocolate,

finely grated, for garnish

Print Recipe
Preheat the oven to 350°F. Butter a cake pan. In the bowl of a food processor, combine the pistachios, flour and 1½ cups of the sugar and the salt. Process until very smooth.

In the bowl of an electric mixer fitted with a paddle attachment, whip the butter until light and flu!y, about 4 minutes. Stop the mixer and add the pistachio mix. Mix on low speed until incorporated, then increase the speed to medium. Add the eggs, one at a time, mixing until fully combined between each. Stop and scrape down the bowl if needed. The batter should be light and flu!y. Transfer to the prepared cake pan and bake until set, about 20 minutes. Remove from the oven and cool.

In a medium stainless-steel saucepan over medium heat, combine the wine, spices, the remaining ½ cup sugar and the pears. Cook until the pears are just tender, about 10 minutes. Let the pears cool in the poaching liquid.

In a small saucepan over very low heat, combine the chocolate, the ground spices and half of the cream. Warm, stirring occasionally, until the chocolate is fully melted, about 5 minutes. Cool to room temperature.

In a medium bowl, beat the remaining cream with a whisk to stiff peaks. Add the whipped cream to the cooled chocolate and stir well.

Slice the cake with a sharp knife. Divide among eight dessert plates and top each slice with a dollop of the chocolate sauce. Slice the pears in half and divide the pieces among the plates. Sprinkle the grated chocolate on top of the pears and serve immediately.