Bake up omelets inside bell peppers for a healthy, tasty, and quick end-of-day meal. If you're cooking for a smaller crowd, Omelet Stuffed Peppers is easily halved. Finish everything off with a scattering of chives and/or hot sauce. If steering clear of dairy, you can stir in non-dairy milk and shredded vegan cheese.
TIP: Research from Pennsylvania State University found that eggs from hens who are free to forage in the great outdoors are richer in important nutrients including omega-3 fats, vitamin E, and vitamin A.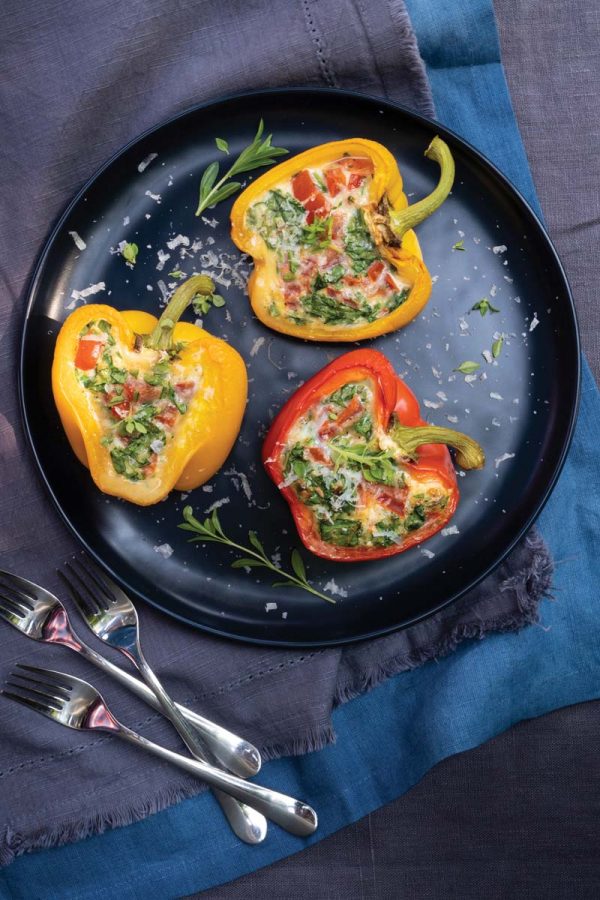 Preheat oven to 375 F. Remove seeds and inner white membranes from bell peppers. In large casserole-style baking dish, place peppers cut side up. Use two dishes, if needed. Add 1/4 cup water to dish, and then bake peppers for 5 minutes.

Meanwhile, beat together eggs and milk. Stir in cheese, tomatoes, spinach, salt, and black pepper.

Pour egg mixture into bell peppers. Place peppers back in the oven and bake 25 minutes more, until eggs are set.
Per serving: 249 calories; 19 g protein; 13 g total fat (5 g sat. fat); 14 g total carbohydrates (9 g sugars, 4 g fiber); 497 mg sodium