This Japanese-style, quick meal is messy but delicious. Look for salmon that is glossy and fresh-smelling. You also want to know where it came from: If farmed, was it raised in clean waters, well-circulated by tidal flow in uncrowded pens, and fed without antibiotics? Ask your fishmonger. The best option is to buy wild-caught salmon, which mostly comes from Alaska and is freshest in late spring to summer. During the months when Alaskan fishing is closed, "frozen at sea" wild-caught salmon is also quite good. If you are a fan of crisped salmon skin, leave the skin on while cooking; it has lots of those healthy omega oils.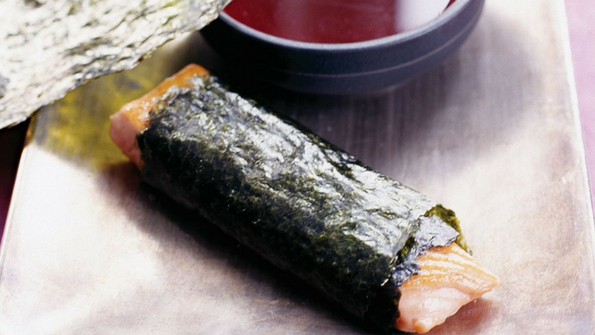 Remove any pin bones from fillet (needle-nose pliers work well) and cut into four serving pieces. Using a very hot, heavy-bottomed skillet or a grill pan sprayed lightly with olive oil, sear salmon pieces. (If you are using the skin, put salmon into the pan skin-side down and cook long enough so that skin and fillet separate when lifted; remove skin from the pan and set aside.) Turn fillets and continue to cook on the other side, until fish is slightly translucent in its center. Do not overcook.

Mix lemon juice and tamari together and divide into four small bowls, one for each place setting.

To eat this finger food, tear off a bit of nori, wrap it around a bite-size chunk of salmon, and dip into tamari mixture. The saved salmon skin can also be dipped and eaten.
Nutrition Facts
Nori-Wrapped Salmon
Amount Per Serving
Calories 185
% Daily Value*
Cholesterol 62mg 21%
Sodium 593mg 25%
Total Carbohydrates 3g 1%
Protein 25g 50%
* Percent Daily Values are based on a 2000 calorie diet.
PER SERVING: 185 cal, 37% fat cal, 7g fat, 1g sat fat, 62mg chol, 25g protein, 3g carb, 1g fiber, 593mg sodium