These rustic mini tarts are far easier than making a pie, but just as flaky and comforting. Use any firm apple you have on hand. They're especially tasty with a scoop of ice cream.
Mini Apple Cranberry Gallettes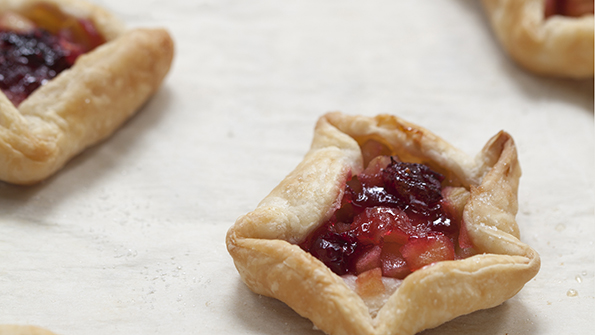 Cut the butter into small cubes. In a medium bowl, combine butter with the flour and 1 teaspoon sugar. Using a pastry blender, blend until butter pieces are pea-sized.

Add ice water, one spoonful at a time. Mix until dough begins to stick together. Form dough into a flattened disc; wrap with plastic and chill in refrigerator.

While the dough is chilling, in a small saucepan, combine ¼ cup sugar and water and bring to boil. Stir until the sugar dissolves then add the apples.

Cook for 5-7 minutes then use a slotted spoon transfer the apples to a bowl. Add the cranberries to the remaining liquid and cook about 2 minutes, or until the cranberries begin to pop. Transfer cranberries and remaining liquid to the bowl and mix with the apples.

Preheat oven to 400 degrees.

Line a baking sheet with parchment paper. Roll the chilled dough as thin as possible, then cut into 4-inch circles.

Place the dough circles on the parchment paper then add 1-2 tablespoons of the apple in the center of each dough circle. Pinch the sides up and around to form rustic tarts.

Bake for 11-13 minutes, or until the crust is golden brown.