Use this to season and brighten the flavor of scrambled eggs, poached fish, or even buttered toast. To give as gifts, transfer to decorative 1/4-cup jars with hinged lids, available at kitchen or craft stores.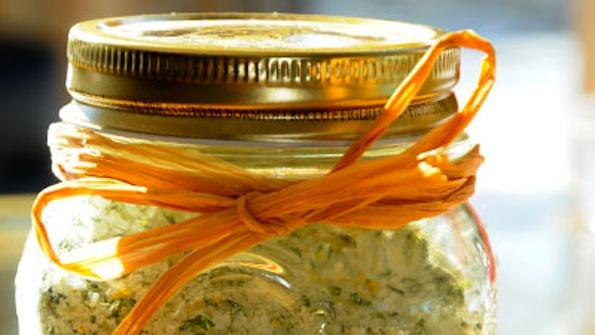 Spread lemon zest on a baking sheet and bake at 200˚ for about 20 minutes, or until dry.

Combine dried zest, herbs, and salt in a small food processor; pulse to mix thoroughly. Spread mixture on a rimmed baking sheet and let dry overnight. Store in airtight jars.
Nutrition Facts
Meyer Lemon Herb Salt
Amount Per Serving
Calories 140
% Daily Value*
Sodium 589mg 25%
* Percent Daily Values are based on a 2000 calorie diet.
PER SERVING (1/4 teaspoon): 0 cal, 0g fat (0g mono, 0g poly, 0g sat), 0mg chol, 0g protein, 0g carb, 0g fiber, 589mg sodium