This recipe, from Executive Pastry Chef Benjie Puga, is very versatile; any fresh stone fruit can be added to or substituted for the peaches. If you don't have time to make sorbet, use your favorite purchased lemon sorbet or frozen Greek yogurt.
Lemon-Peppermint Sorbet with Fresh Peaches and Raspberries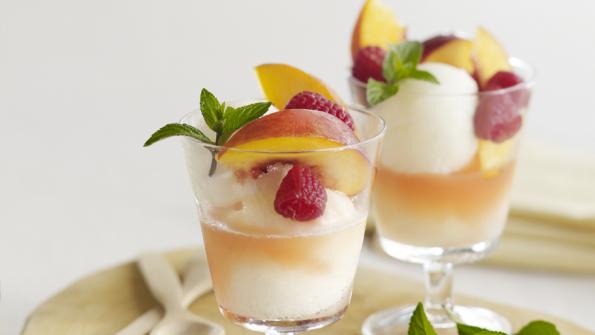 Wash peaches thoroughly but do not peel. Halve, remove pit, and cut each half into eight slices. In a medium bowl, toss peaches with agave and orange juice. Refrigerate for about 2 hours or overnight.

Make sorbet: Combine sugar, water, peppermint, and lemon zest in a medium pot and bring to a boil. Reduce heat to a steady simmer and continue to cook for 5 minutes. Remove from heat and let steep for 20 minutes; then strain through a fine sieve into a bowl, pressing to extract flavors. Stir in lemon juice. Chill until cold, at least 45 minutes. Pour into an ice-cream maker and freeze according to manufacturer's directions. (Or freeze in an 8x8-inch pan, scraping with a fork every 15 minutes.)

Toss raspberries with a few tablespoons of peach liquid. Serve peaches and raspberries atop scoops of sorbet, drizzled with remaining juice. Garnish with mint leaves.
Nutrition Facts
Lemon-Peppermint Sorbet with Fresh Peaches and Raspberries
Amount Per Serving
Calories 144
% Daily Value*
Sodium 1mg 0%
Total Carbohydrates 38g 13%
Protein 1g 2%
* Percent Daily Values are based on a 2000 calorie diet.
PER SERVING: 144 cal, 0g fat (0g mono, 0g poly, 0g sat), 0mg chol, 1g protein, 38g carb, 2g fiber, 1mg sodium