Tuna is a great fish for grilling—its meaty texture holds up well on the grill, and it looks beautiful under a spoonful of green olive tapenade.

Grilled Tuna With Green Olive Tapenade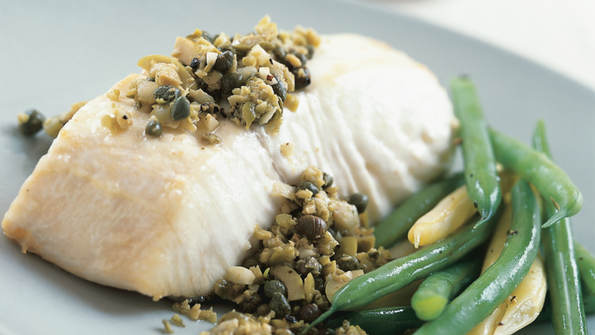 Preheat grill to medium-high. Brush tuna steaks with 1 tablespoon olive oil and season with salt and pepper.

In a food processor, coarsely blend garlic, green olives, capers, lemon juice, and 2 tablespoons olive oil, keeping the consistency slightly chunky. Season to taste with salt and pepper and set aside.

Grill the fish for 3-4 minutes each side. Remove and spoon tapenade over the fish. Serve immediately and garnish with lemon wedges.
Nutrition Facts
Grilled Tuna With Green Olive Tapenade
Amount Per Serving
Calories 330
* Percent Daily Values are based on a 2000 calorie diet.
Calories 330,Fat 13,Perfat 35,Cholesterol 0,Carbo 4,Protein 51