Figs are often served with yogurt and honey as a dessert. For this salad recipe, yogurt and honey come together in a tangy dressing for sweet summer leaves. The figs are grilled quickly on the barbecue for an extra bit of charred flavor.
How to choose figs

Although we refer to them as fruits, figs are actually a conglomeration of tiny flowers held within their fleshy structure. A perfectly ripe fig is a true pleasure that doesn't last long, so aim to pick some at their peak. Look for figs with soft flesh that yields to a gentle touch. If there is any sign of mushiness or mold, leave them behind.

 
Grilled Figs and Butter Lettuce with Honey Yogurt Dressing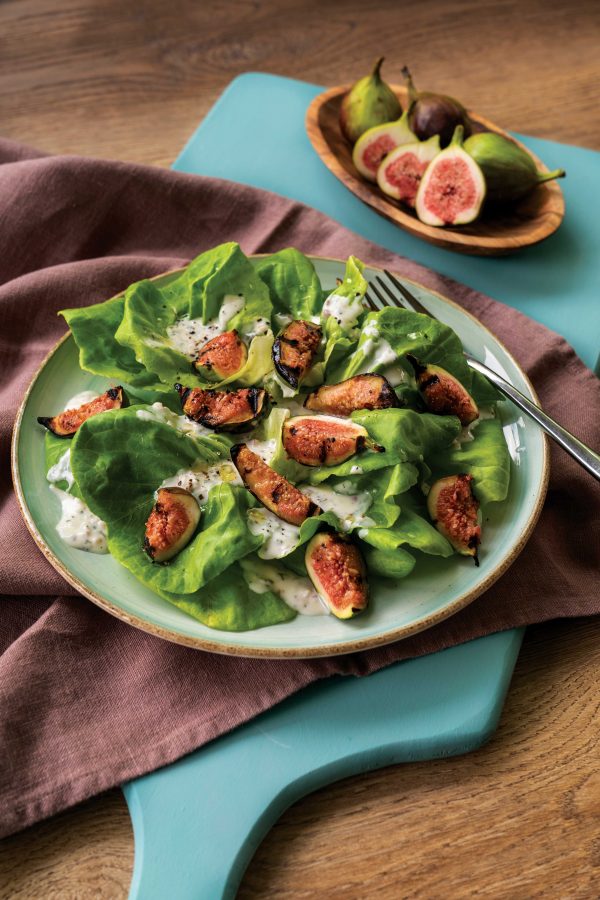 In small jar or bowl, combine yogurt, vinegar, honey, thyme, and shallot.

Arrange lettuce leaves on large serving platter.

Slice figs lengthwise and brush with olive oil. With cover closed, preheat barbecue to 350 F. Lay fig halves face down on hot grill; grill for about 4 to 6 minutes, lifting and replacing them at a 45-degree angle once to make cross-hatch grill marks. Arrange figs over lettuce and dress with yogurt dressing.
Per serving: 112 calories; 3 g protein; 2 g total fat (0 g sat. fat); 23 g total carbohydrates (19 g sugars, 4 g fiber); 7 mg sodium