Unsweetened cacao nibs lend healthy falvanols and a nice crunch to these autumn-spice muffins; use chopped almonds or pecans if you prefer. Antioxidant-rich sorghum syrup can replace molasses in any recipe; if you can't find it, use 1/2 cup maple syrup mixed with 2 tablespoons molasses.ned
Ginger-Cacao Spice Muffins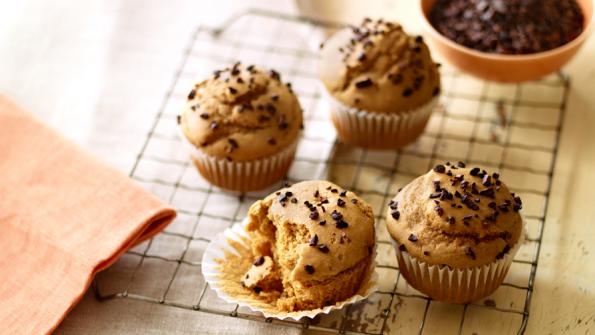 3/4

cup

all-purpose flour

3/4

cup

whole-wheat pastry flour

1 1/4

teaspoons

baking powder

2 1/2

teaspoon

ground ginger

1/2

teaspoon

ground cinnamon

1/4

teaspoon

fine sea salt

1/2

cup plus 1 tablespoon

vanilla almond milk or other nondairy milk

1/4

cup

pure maple syrup

1/4

cup

sorghum syrup

2 1/2

tablespoons

melted coconut oil (or other vegetable oil)

2

teaspoons

vanilla extract

4-5

teaspoons

cacao nibs (plain or sweetened)
3/4

cup

all-purpose flour

3/4

cup

whole-wheat pastry flour

1 1/4

teaspoons

baking powder

2 1/2

teaspoon

ground ginger

1/2

teaspoon

ground cinnamon

1/4

teaspoon

fine sea salt

1/2

cup plus 1 tablespoon

vanilla almond milk or other nondairy milk

1/4

cup

pure maple syrup

1/4

cup

sorghum syrup

2 1/2

tablespoons

melted coconut oil (or other vegetable oil)

2

teaspoons

vanilla extract

4-5

teaspoons

cacao nibs (plain or sweetened)

Print Recipe
Position rack in oven middle; preheat to 350°. line a cupcake pan with paper liners (or oil and dust thoroughly with flour).

Sift flours, baking powder, ginger, cinnamon, and salt into a medium bowl. Whisk lightly to aerate.

In a second medium bowl, whisk together almond milk, both syrups, oil, and vanilla. Pour into dry ingredients and whisk until smooth. Fill cups half to three-fourths full. Scatter cacao nibs over top. Bake 10–14 minutes until golden brown.

Place pan on wire rack and cool about 5 minutes; then turn out muffins and cool completely on rack. Muffins can be frozen in an airtight container for up to 2 months.
Nutrition Facts
Ginger-Cacao Spice Muffins
Amount Per Serving
Calories 133
Calories from Fat 36
% Daily Value*
Total Fat 4g 6%
Sodium 69mg 3%
Total Carbohydrates 22g 7%
Protein 2g 4%
* Percent Daily Values are based on a 2000 calorie diet.
PER SERVING: 133 cal, 4g fat (0g mono, 0g poly, 4g sat), 0mg chol, 2g protein, 22g carb, 1g fiber, 69mg sodium