This dark beer-marinated chicken uses the convection setting on your oven to create a crispy skinned bird. Convection cooking circulates air around the meat, crisping it like rotisserie without needing a spit or a lot of oil, similar to an air fryer (which you can also use!). If you don't have a convection setting on your oven, you can simply bake the chicken for longer at the same temperatures as below, until a meat thermometer inserted in the thickest part of the thigh reads 165 F.
TIP: You can use any dark beer, but our pick is, obviously, something German.
Oktoberfest barbecue
You can also grill the whole chicken on a barbecue—which makes for an impressive presentation and a gorgeously crispy bird—but it's best to spatchcock it first (take out the backbone) so it cooks more evenly and quickly.
Make it fast!
If you don't want to make an entire chicken—or if you want your dinner to cook faster—use this marinade (without stuffing the chicken cavity) on chicken breasts, thighs, or iron-rich chicken livers instead.

Dunkel Beer-Marinated Rotisserie-Style Chicken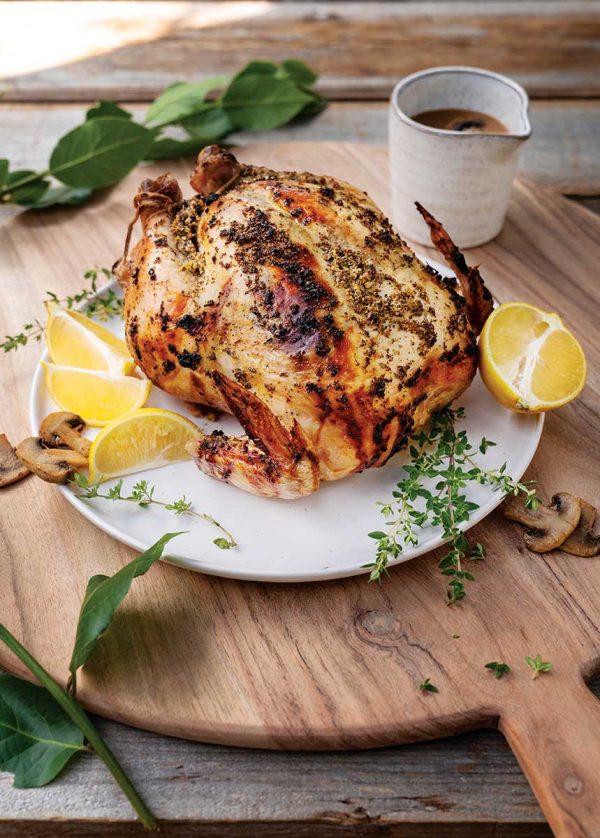 Zest and juice lemon. Stuff chicken cavity with leftover lemon pith and fresh thyme sprigs. In medium bowl, combine lemon zest and juice with remaining ingredients and pour over chicken in large bowl, pot, or leak-proof, sealable bag. Gently separate chicken skin from breast and legs without tearing, and scoop some of the marinade juices inside. Refrigerate for at least 1 hour, up to 12 hours.

Heat oven to 400 F on convection roast setting.

Place chicken in roasting pan and pour remaining marinade overtop. It should be elevated above juices to allow chicken to crisp. A metal rack that fits inside the roasting pan can be used. Roast for 30 minutes. Lower heat to 375 F and roast for 50 minutes longer, basting chicken every 20 minutes, until internal temperature reads 165 F and juices run clear. Loosely tuck a large piece of parchment paper over chicken during the last 30 to 60 minutes if overly brown.

Remove chicken from oven and let it rest for 10 minutes. Carve chicken and serve with sieved juices, or thicken juices with beer and cornstarch to make gravy.
Per serving: 191 calories; 12 g protein; 14 g total fat (4 g sat. fat); 3 g total carbohydrates (0 g sugars, 1 g fiber); 482 mg sodium