This dessert needs a few hours to set, but the working time is minimal. If you prefer your ginger less intense, use a smaller amount. Health laws require egg producers (the people, not the hens) to pass eggs through a washing process to eliminate salmonella, but it's still good practice to wash the shell before cracking if you're going to use raw egg (yolk or white). If you wish, top each serving with shaved chocolate, fresh berries, or a dollop of whipped cream sweetened with a splash of dark rum.
Chocolate Mousse with Ginger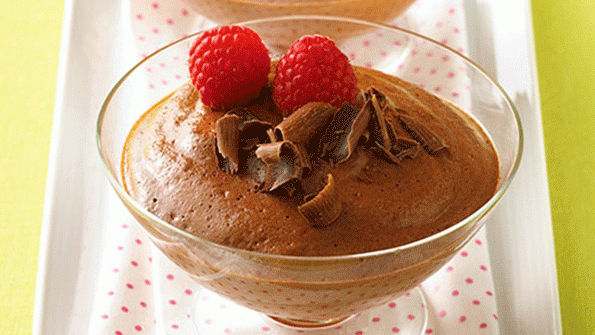 Place chopped chocolate and vanilla extract in a blender.

In a small pot with a tight-fitting lid, heat water and ginger until just simmering. Turn off heat, cover, and let steep at least 10 minutes. Reheat water and ginger to simmering. Remove from heat and stir in espresso powder until dissolved. Immediately pour over chocolate in the blender, cover, and purée on high until smooth, about 20 seconds. With the motor running, add flax oil. Strain into a large bowl, discarding any ginger bits.

In a separate bowl, whisk egg whites until foamy. Add cream of tartar and continue whisking until stiff but not dry. Fold into chocolate mixture. Pour into eight dessert bowls or goblets. Cover tightly and refrigerate until set, about 3 hours.
Nutrition Facts
Chocolate Mousse with Ginger
Amount Per Serving
Calories 210
% Daily Value*
Sodium 30mg 1%
Total Carbohydrates 17g 6%
Protein 4g 8%
* Percent Daily Values are based on a 2000 calorie diet.
PER SERVING: 210 cal, 64% fat cal, 17g fat, 7g sat fat, 0mg chol, 4g protein, 17g carb, 2g fiber, 30mg sodium