Served with pears, apples, strawberries, or bananas, this is a sneaky way to get kids to eat more fruit, but it's appealing for adults too. It's also great on bread or crackers. If hazelnut butter proves hard to find, substitute almond butter.
Gluten Free, Quick, Vegan
Chocolate Hazelnut Spread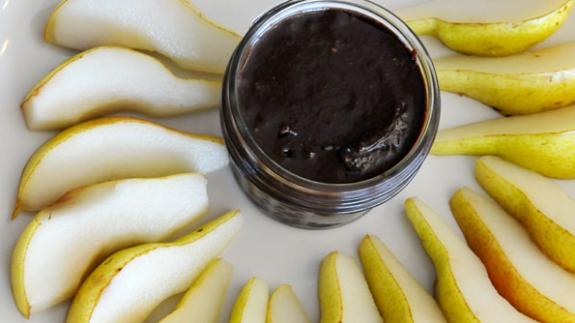 Combine hazelnut butter, cocoa, agave nectar, and salt in a bowl. Stir well to mix thoroughly.
Nutrition Facts
Chocolate Hazelnut Spread
Amount Per Serving
Calories 169
Calories from Fat 90
% Daily Value*
Total Fat 10g 15%
Sodium 146mg 6%
Total Carbohydrates 22g 7%
Protein 3g 6%
* Percent Daily Values are based on a 2000 calorie diet.
PER SERVING (1 tablespoon): 169 cal, 10g fat (8g mono, 1g poly, 1g sat), 0mg chol, 3g protein, 22g carb, 4g fiber, 146mg sodium