Here's a cracker recipe made with real cheese and no fake ingredients or additives. They're easy enough for kids to make, but tasty enough to impress friends at the next office party or get-together. They are especially good with tomato soup, but watch out, they go fast!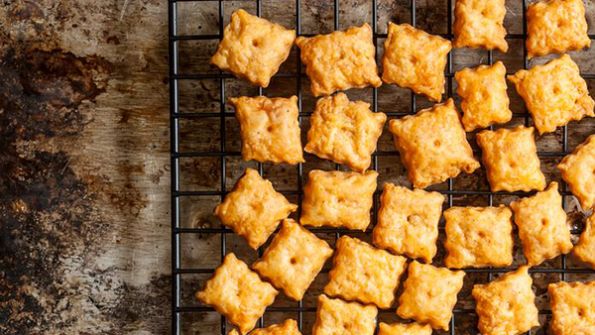 Preheat oven to 375 degrees and grease two baking sheets.

Combine the butter, cheeses, spices and salt and stir until well mixed. Add the flour and stir to combine, sprinkling with water a few drops at a time and mixing in till the dough holds its shape. Divide the dough into two balls, cover with plastic wrap and refrigerate for 30 minutes.

Roll each dough ball onto a floured work surface to about 1/8 inch thick. Cut 1-inch wide strips with a fluted pastry wheel. Then cut 1-inch strips crosswise to make squares. Dimple the center of each square with the pointed end of a chopstick then arrange dough squares on baking sheets.

Bake in preheated oven about 15 minutes or until the crackers brown slightly and crisp. Let cool for a few minutes before removing crackers from the pan.