Frozen cauliflower makes this soup the fastest ever. Be sure to use high-quality paprika that's relatively fresh. Substitute gluten-free, hearty whole-grain, or any kind of bread you have on hand for the croutons; or skip the croutons and top with a drizzle of flavorful olive oil, pumpkin-seed oil, or white truffle oil for a luxurious finish. Vegan
Cauliflower, Celery, and Leek Soup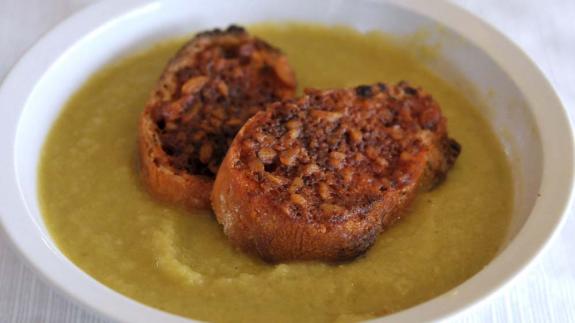 3

tablespoons

olive oil

divided

1

medium leek

thinly sliced, white and green parts

7

stalks

celery

thinly sliced

1

pound

frozen cauliflower

4

cups

low-sodium vegetable broth

12

small, thin slices baguette

2

cloves

garlic

pressed

2

teaspoons

smoked paprika

1/4

teaspoon

salt

1/4

teaspoon

black pepper
3

tablespoons

olive oil

divided

1

medium leek

thinly sliced, white and green parts

7

stalks

celery

thinly sliced

1

pound

frozen cauliflower

4

cups

low-sodium vegetable broth

12

small, thin slices baguette

2

cloves

garlic

pressed

2

teaspoons

smoked paprika

1/4

teaspoon

salt

1/4

teaspoon

black pepper

Print Recipe
Heat 1 tablespoon olive oil in a medium pot over medium heat. Add leek and celery, and cook for 4 minutes until just softened, being careful not to burn. Add cauliflower and broth; bring to a boil, reduce heat, and simmer, covered, until vegetables are tender, about 10–15 minutes.

While soup is cooking, preheat broiler. Arrange baguette slices on a baking sheet. In a small bowl, combine remaining 2 tablespoons oil, garlic, paprika, salt, and pepper, and mix well. Brush bread slices with oil mixture and broil for 1–2 minutes, until crispy.

When soup is done, purée in batches until smooth and creamy. Return to pot and season with salt and pepper. Divide among bowls, top each serving with two croutons, and serve immediately.
Nutrition Facts
Cauliflower, Celery, and Leek Soup
Amount Per Serving
Calories 143
Calories from Fat 63
% Daily Value*
Total Fat 7g 11%
Sodium 305mg 13%
Total Carbohydrates 16g 5%
Protein 3g 6%
* Percent Daily Values are based on a 2000 calorie diet.
PER SERVING: 143 cal, 7g fat (5g mono, 1g poly, 1g sat), 0mg chol, 3g protein, 16g carb, 4g fiber, 305mg sodium