A real departure from typical dog treats, this recipe is fun to make, tastes delicious, and is good for either humans or dogs. Each ingredient is laden with antioxidants or other important nutrients that support the immune system, especially during stress, chronic illness or aging. You will need a small size muffin pan and small paper cups for this recipe.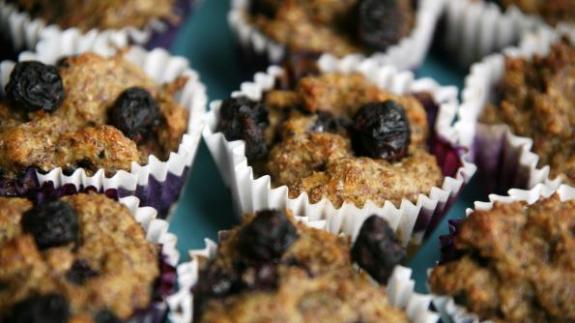 Preheat the oven to 350°. Combine flaxseed, blueberries, wheat germ, nutritional yeast, kelp powder, and vitamin C powder (if using) in a mixing bowl; fold together to combine thoroughly.

Add eggs, yogurt, and oil, and stir again to form a thick batter. Pour into mini muffin pans lined with paper cups until about half full.

Bake for about 25 minutes until firm to touch. Cool thoroughly before serving. Store in an airtight refrigerator for up to a week. The muffins can also be frozen, if desired.