Black rice has more iron, protein and fiber and the highest antioxidants of any rice. Also known as Forbidden Rice, it's an ancient grain that was supposedly eaten only by the emperors. Lucky for us those days are gone. Black rice sushi is a stunning and healthy version of something you probably already love.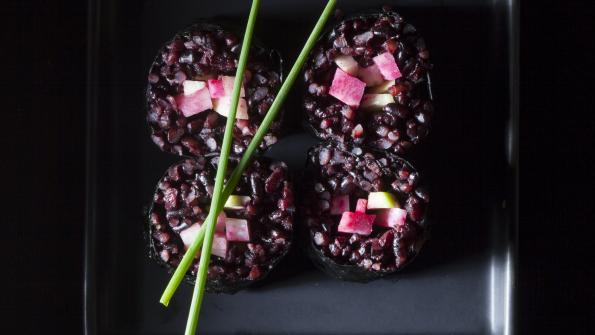 In a medium saucepan, bring the rice and 2-1/4 cups water to a boil, then turn down the heat and simmer for 25 to 30 minutes, until all the water is absorbed and the rice is cooked.

Meanwhile, whisk together rice vinegar, sugar, salt and 1 tablespoon water until the sugar dissolves. Mix vinegar mixture (called Tezu) into the cooked rice; refrigerate.

In a steamer basket over simmering water, steam the cut up carrot and radish for 1-2 minutes, just long enough for the vegetables soften slightly.

When the rice has cooled, prepare the sushi: Lay a piece of plastic wrap over a bamboo sushi mat with the long side of the mat facing you. Lay a sheet of nori over the plastic wrap. Spoon ¼ to ½ cup rice over nori and spread into a thin layer over the nori from left to right, leaving a 2-inch edge on the right side. Place 1/6th of the carrot and radish pieces 1-1/2 inches from the left, making a line of vegetables 3-4 pieces wide. Roll from left to right using the bamboo to keep the shape. Seal the roll by moistening the right edge of nori with fingers dipped in water. Cut the roll into six pieces. Repeat to make 6 rolls total. If desired, serve with soy sauce or tamari and pickled ginger.