All kids like fruit roll-ups, which are basically just dehydrated purees, so why not try it with veggies? Using various combos that are interesting, fun, and sweet, you'll be sure to get some veggies into your kiddos. If this is too sweet, add a squeeze of fresh lemon juice or a few strawberries to the puree.
Apricot and butternut squash roll-ups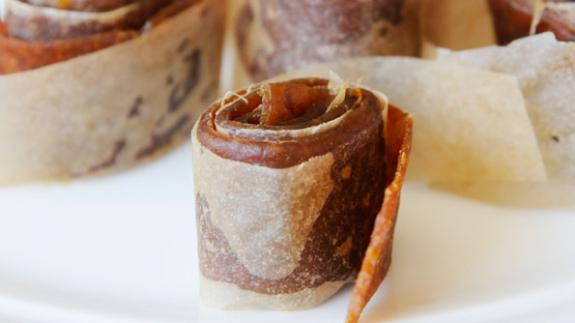 Chop apricots into small pieces. Peel and cube squash into 1-inch pieces. In a steamer basket over 1 inch of water, steam apricots and squash for 10-12 minutes, or until soft. Add raisins and steam for 2 minutes more. Reserve steamer liquid.

Transfer apricots, squash, and raisins to a food processor with 1/2 cup reserved liquid; puree. Add more liquid as needed to obtain desired consistency.

Preheat oven to 120° (or lowest temperature available for your oven). Cover a large, rimmed baking sheet with parchment paper coated with cooking spray. Pour mixture on paper in a very thin layer, about 1/4 inch thick. Bake, leaving oven door slightly ajar, for 3-4 hours, until purée has dried completely.

Remove from oven. Use scissors to cut puree and paper into long strips, the full length of the pan. Then cut strips in half and finish by rolling them up. Store in an airtight glass jar.
Nutrition Facts
Apricot and butternut squash roll-ups
Amount Per Serving
Calories 115
% Daily Value*
Total Carbohydrates 4g 1%
* Percent Daily Values are based on a 2000 calorie diet.
PER SERVING (1): 15 cal, 0g fat (0g mono, 0g poly, 0g sat), 0mg chol, 0g protein, 4g carb, 0g fiber, 0mg sodium