Meaning "half cold" in Italian, think of semifreddo as sliceable ice cream. This Limey Avocado Semifreddo is dairy free but still oh-so-rich thanks to coconut cream. And since you don't need an ice cream maker or any other fancy equipment to make it, it's easy to whip up when the heat is on.
Coconut cream has a higher fat content than coconut milk (less water, more coconut), so it's thicker and easier to whip. You can find cans of coconut cream in Asian grocers and many supermarkets. But if you don't find it, for this recipe you can place two cans of coconut milk (not "lite" versions) in the fridge for a few hours. Skim off the cream that rises to the top of the can and whip this up.
Vegetarian; includes gluten-free & dairy-free options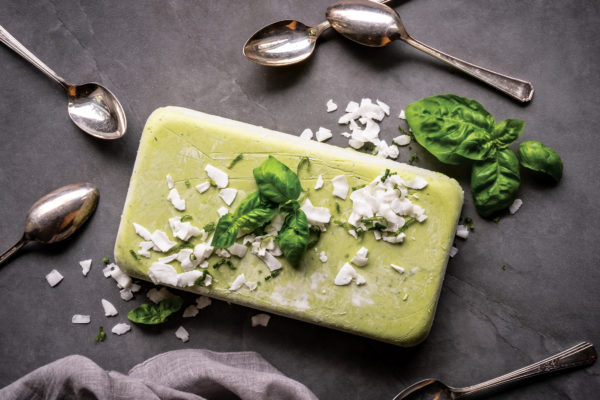 Line standard loaf pan with parchment paper, making sure there is about 2 inches of overhang along length of pan.

Using hand mixer or stand mixer with whisk attachment, whip coconut cream at medium speed for 2 minutes, or until it takes on a thicker whipped cream consistency. Set aside

In blender or food processor, blend together avocado flesh, honey or agave syrup, basil, lime zest, and lime juice until smooth. Fold avocado mixture into coconut cream until well combined. Fold in pistachios

Pour mixture into loaf pan and smooth out the top. Place another piece of parchment paper on top of avocado mixture. Freeze for 6 hours or overnight, until semifreddo firms up.

To serve, lift semifreddo out of pan using parchment overhang and let sit at room temperature until it can be sliced. If you want semifreddo to be creamier and less icy, let slices rest at room temperature for 10 to 15 minutes after slicing. Top with raspberries and chocolate (if using).
Per serving: 312 calories; 6 g protein; 22 g total fat (8 g sat. fat); 29 g total carbohydrates (19 g sugars, 6 g fiber); 13 mg sodium