This recipe is based on the classic snack that some call America's first junk food dating back to the late 1800s. We swapped the peanuts for almonds and used flavorful maple syrup and molasses for a sweet crunch. A sprinkle of sea salt gives each bite an updated sweet-salty taste.
Almond Cracker Jacks with Sea Salt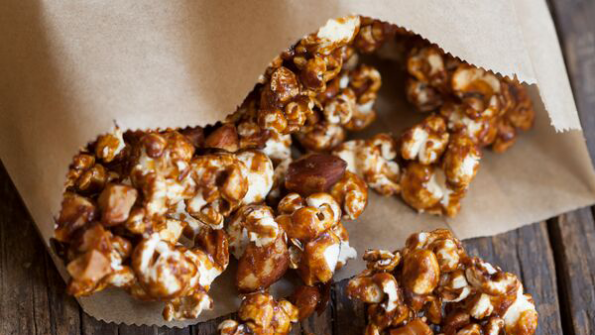 Preheat the oven to 250 degrees. Place the popcorn in a large stock pot or bowl. Add the almonds and mix.

Melt the butter in a small saucepan. Whisk in the brown sugar, maple syrup and molasses; bring to a boil. Lower heat to a gentle boil and cook for 5 minutes while stirring.

Remove from heat and pour molasses mixture over the popcorn, while gently tossing with salad tongs.

Divide mixture between two greased baking sheets and bake for 50 minutes, stirring every 15 minutes. Take out of the oven, sprinkle with sea salt and let cool. Yields about 14 cups.