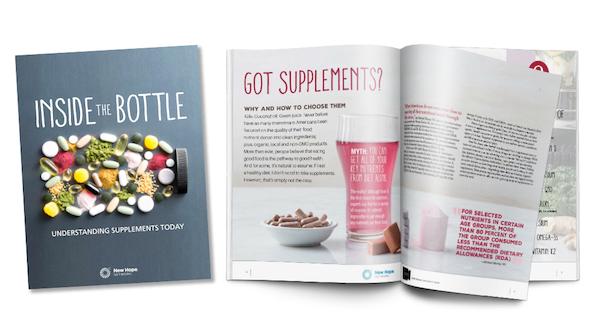 Dietary supplements were once popular only with nutrition radicals. But today, they have mass appeal thanks to a growing body of clinical evidence showing that, along with a healthy diet and lifestyle, supplements can support vitality in our fast-paced world. As a result, a walloping 68 percent of American adults now take supplements, according to a 2015 Council for Responsible Nutrition (CRN) survey. Even conventional-medicine practitioners are starting to recognize the importance of nutritional supplementation.
Still, people are left with plenty of questions:
• How do I know if a product is safe?
• Should I believe media headlines?
• Which supplements should I choose?
To help pull back the curtain of the supplement world, New Hope Network—Delicious Living's parent company—has performed a deep dive into the latest research and information available on supplement quality, science, trends and more. The result? This vital, mythbusting educational guide (fact- and science-checked by medical and industry experts, plus our own internal Standards department) and much more content and education to come.
Inside this eGuide, you'll find:
GOT SUPPLEMENTS? | Advice to help you choose the most trustworthy products
SUPPLEMENTS IN PERSPECTIVE | The good, the bad and the media
YES, SUPPLEMENTS ARE REGULATED | Understanding the meticulous regulatory landscape
INNOVATION AND THE ROAD AHEAD | New ways to get your nutrients and what's to come
Download your copy below!