Who knew quinoa and frosting could get along so well? With a shot of flavor from Darjeeling tea, vanilla, and a hint of salt, this unique confection is the perfect companion for our Chai Quinoa Cupcakes.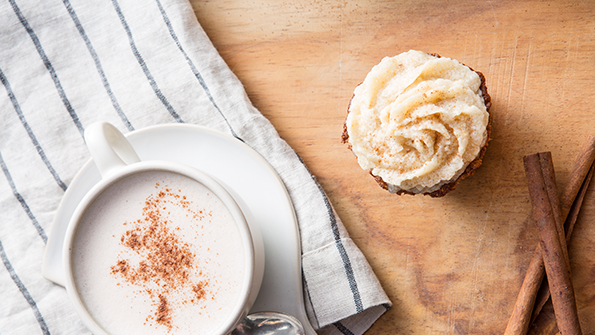 In a medium saucepan over medium-high heat, bring quinoa, 2 /3 cup milk and teabag to a boil. Cover pan, reduce heat to low and simmer until all of the milk is absorbed, about 15 minutes (you may have to reduce heat more if milk boils or quinoa is getting too dry). Remove tea bag, fluff quinoa with a fork and spread quinoa onto a plate or small baking sheet; place in refrigerator until cooled.

In a mini food processor, process cooled quinoa with 2 tablespoons milk until as smooth as possible; transfer to bowl of stand mixer with a paddle attachment.

Beat whipped quinoa with sugar, vanilla and salt on high speed until the sugar is dissolved, about 5 minutes. With mixer running, add butter, a few pieces at a time, and continue beating until all the butter is incorporated and frosting is light and fluffy, 5–7 minutes. Spread or pipe frosting onto cooled cupcakes. Note: If you refrigerate the frosting, let it come to room temperature, then beat it again just to fluff it up.