The wonderfully spicy-hot jam condiment lifts the traditional latke taste to a new level. Be cautious when handling superhot habaneros; if you have sensitive skin, wear gloves.
Traditional Potato Latkes with Raspberry Habanero Jam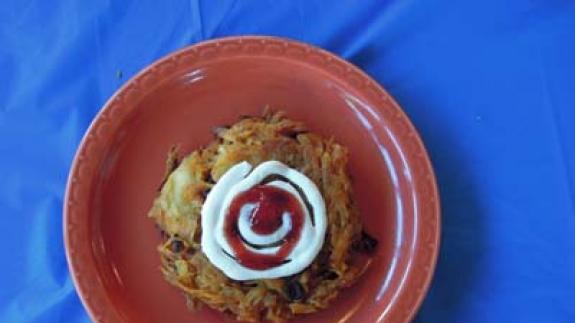 Mix together (by hand or in blender) jam and habenero. Set aside.

Peel potatoes and coarsely grate by hand or with a food processor grater. Drain any access liquid with paper towels or a dry cloth. Place potatoes in a bowl and mix with finely chopped onion, beaten egg, salt and pepper.

In a 12-inch or slightly larger nonstick pan, begin to heat olive oil over medium heat. Pat potato mixture into 3-inch round patties, making sure they are well condensed and sticking together nicely.

Place 4 latkes in the pan at a time and fry on each side until brown and crispy. Each family likes their latkes at different consistencies, from slightly browned to almost black and very crispy. Remove latkes from oil and place on a platter layered with paper towels. Repeat until all latkes are made.

Drizzle raspberry habanero jam over the latkes and add sour cream if desired.