Pomegranates' abundant polyphenols and potassium benefit your heart, and kale is chock-full of minerals, vitamin K, and anticancer sulforaphane. Peel away a pomegranate's pithy white sections to reveal the tart-sweet, crimson seeds; or look for ready-to-eat seeds in your market's refrigerated fruit section.
Sautéed Kale with Pomegranate Seeds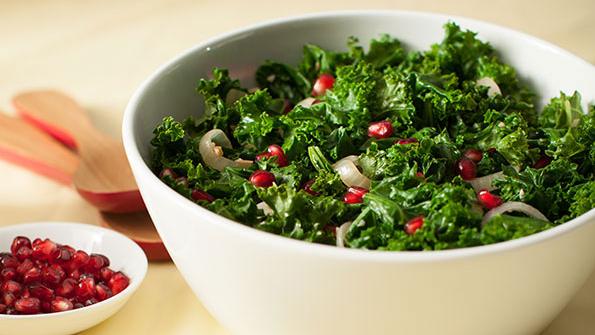 Heat oil in a heavy skillet over high heat. Add onions, garlic, and salt; cook 2 minutes, stirring constantly. Add chopped leaves, pomegranate seeds, and water; stir-fry 3–5 minutes or until greens are wilted. Serve immediately.
Nutrition Facts
Sautéed Kale with Pomegranate Seeds
Amount Per Serving
Calories 88
Calories from Fat 18
% Daily Value*
Total Fat 2g 3%
Sodium 83mg 3%
Total Carbohydrates 17g 6%
Protein 4g 8%
* Percent Daily Values are based on a 2000 calorie diet.
PER SERVING: 88 cal, 2g fat (1g mono, 1g poly, 0g sat), 0mg chol, 4g protein, 17g carb, 3g fiber, 83mg sodium