Poached Eggs and Roasted Tomatoes with Balsamic Glaze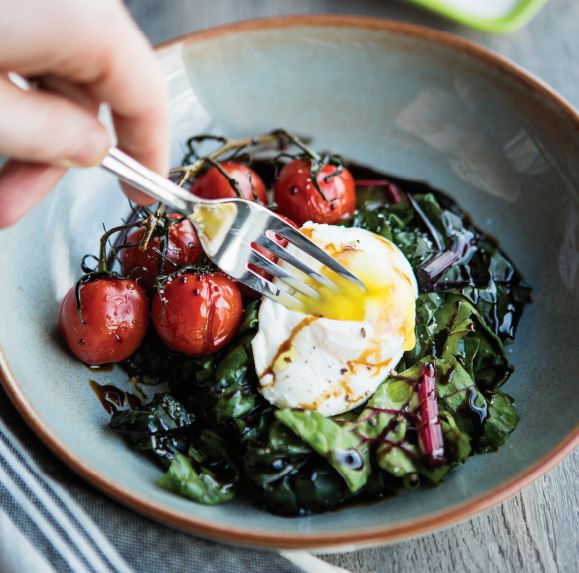 Preheat oven to 350 F. In small saucepan over medium heat, bring balsamic vinegar and palm sugar or honey to a boil. Reduce heat and allow to simmer until mixture becomes syrupy. Remove from heat and allow to cool.

Meanwhile, place cherry tomatoes in ovenproof dish and drizzle with olive oil. Place in oven and roast for about 10 minutes, or just until tomatoes begin to collapse.

While tomatoes are roasting, wash and tear Swiss chard. Steam chard in steamer until just softened, about 3 minutes. Remove from heat and keep covered until ready to assemble the dish.

Prepare eggs by bringing large saucepan filled with water to a gentle simmer. Add a dash of white vinegar to water and stir with spoon to create a swirl. Carefully break 2 eggs into water and cook for about 3 minutes. Remove eggs with slotted spoon and repeat this process with remaining 2 eggs.

When eggs are done, divide chard between 4 plates. Add 5 roasted tomatoes to each plate. Top chard with poached egg and drizzle each plate with cooled balsamic reduction. Season with salt and pepper to taste.
Per serving: 159 calories; 8 g protein; 9 g total fat (2 g sat. fat); 12 g total carbohydrates (9 g sugars, 2 g fiber); 191 mg sodium.