Who doesn't love an ice-cold popsicle when temperatures are soaring? (Hint: nobody.) In these Peach Cheesecake Popsicles, seasonal peaches add just the right amount of natural sweetness, while ricotta makes each lick seem extra indulgent. Delicious, fruity, and creamy—it's like summer on a stick. And these pops come together super fast … so you can spend less time sweating in the kitchen.
To unmold a popsicle, run the mold under warm water for a few seconds, being careful not to thaw the pops.
Vegetarian; includes gluten-free option

Peach Cheesecake Popsicle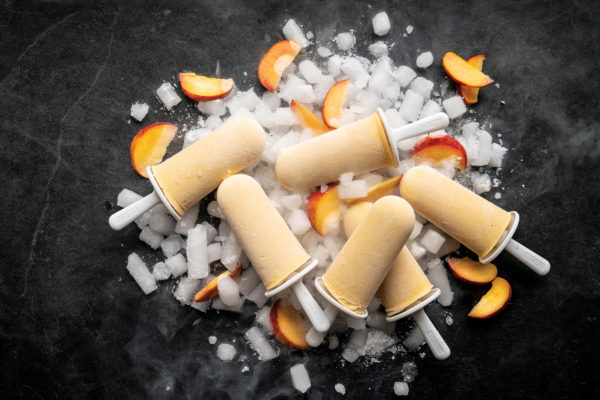 Fill medium pot with water and bring to a boil. Slice an "X" in skin on bottom of each peach and then submerge in boiling water for 30 seconds. Remove peaches from water and, once cool enough to handle, peel off skins. Slice peaches into quarters and discard pits.

In blender container, place all ingredients and blend until smooth.

Evenly distribute mixture into 6 popsicle molds, filling each about 3/4 full. Insert popsicle sticks and freeze for 8 hours.
Per serving: 100 calories; 6 g protein; 4 g total fat (2 g sat. fat); 12 g total carbohydrates (8 g sugars, 1 g fiber); 60 mg sodium