In the world of food pairings, cheese with chocolate probably isn't the first one that comes to mind. These fancy-looking lollipops have maximum wow factor for very little effort. One of the cornerstones of this recipe is the best-available ingredients to ensure the tastiest results. Try these lollipops as a fun hors d'oeuvre with a glass of full-bodied red wine or as a dessert.

Parmesan Chocolate Lollipops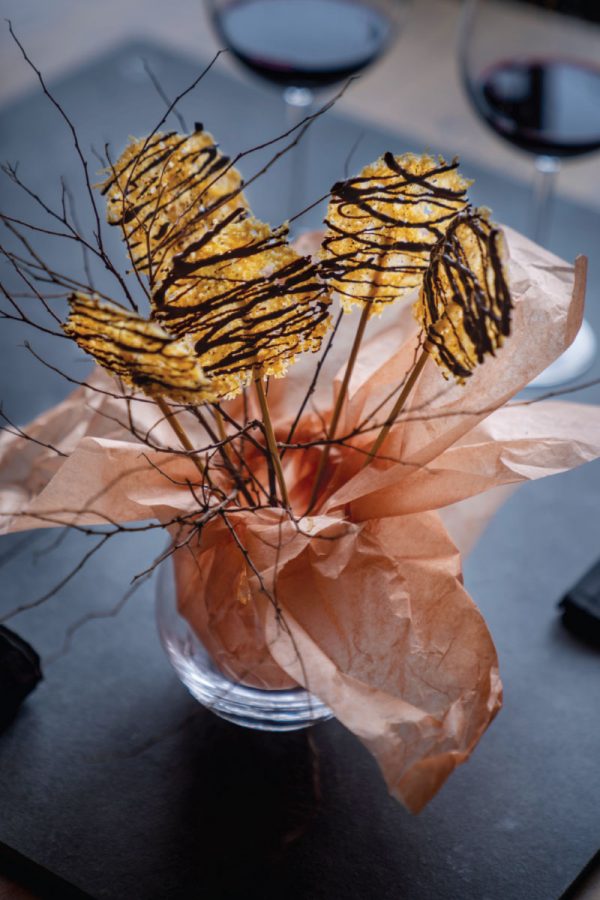 Gluten free & vegetarian
With oven rack in middle position, preheat oven to 350 F. Line 2 baking trays with parchment paper and set aside.

Place 6 medium-length wooden skewers on baking trays, leaving at least 4 inches (10 cm) between each. Place 1 Tbsp grated cheese at alternating ends of each skewer. With your fingers gently spread cheese into 3-inch circle, ensuring that part of the circle lays over the skewer. Season lightly with black pepper.

One tray at a time, bake Parmesan circles until cheese has melted, spreads slightly, and is lightly golden brown, about 6 to 8 minutes. It's important to keep an eye on the lollipops as they cook. If undercooked, they won't be crisp; if overcooked, they'll taste bitter. Let Parmesan lollipops cool on baking tray. Repeat baking process with remaining tray.

While Parmesan lollipops cool, in heatproof bowl set over saucepan of simmering water, melt chocolate while stirring constantly with rubber spatula. Make sure water in saucepan does not touch bottom of bowl or you run the risk of burning the chocolate. Once chocolate has melted, remove from saucepan and set aside to cool for a few minutes. Lightly drizzle chocolate over cheese lollipops on baking trays and transfer trays to refrigerator, allowing chocolate to set for 10 minutes.

To serve, gently remove lollipops from baking trays and enjoy. If not ready to enjoy right away, they will keep refrigerated in an airtight container for up to 3 days.
Per lollipop: 60 calories; 3 g protein; 5 g total fat (3 g sat. fat); 3 g total carbohydrates (1 g sugars, 1 g fiber); 94 mg sodium
Spice is nice

If you're a fan of spice, try jazzing up Parmesan Chocolate Lollipops by omitting the black pepper and substituting a pinch of your favorite smoked paprika or spicy chili pepper powder for a sweet, spicy, and salty bite.