Let's face it: the holidays can be a little stressful. Between cold, dark days, lots of projects to finish before the end of the year, retail madness, holiday office parties and visiting family, most of us feel a little run-down and overwhelmed. Sonnet Lauberth, holistic health coach and author of In Sonnet's Kitchen, created this fun, festive mocktail that uses magnesium as a base to help all of us feel a little better during the holiday rush. It's also a wonderful alternative to traditional holiday drinks, sans alcohol.
Using cranberries brightens up the color of the drink; leave them whole for color, but slice them if you want them to add more of their flavor. You can also sub another fruit like pomegranate seeds or orange slices.
If you are serving for a crowd, mix it ahead of time and let it chill in the fridge. Or, simply add ice and serve immediately.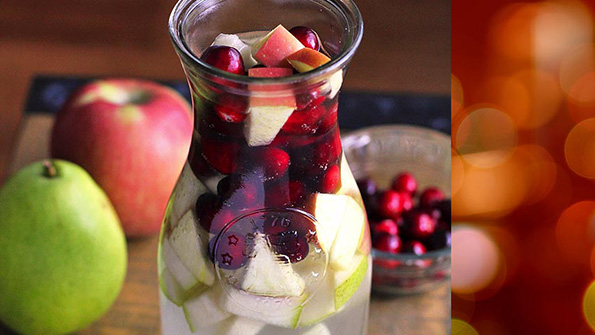 Mix the Natural Calm with lukewarm water until well dissolved. Add the fruit and let chill in the refrigerator until serving; or if serving immediately, add the ice and serve.
If a stronger flavor is desired, you can add more Natural Calm to taste.