Looking for a healthy alternative to traditional french fries? Look no further than jicama! These crispy and delicious "fries" are made from this crunchy root vegetable that's low in calories and high in fiber. Add the irresistible "everything" seasoning blend made from sesame seeds, garlic, onion, poppy seeds, and a pinch of salt. With their satisfying crunch and subtle sweetness, jicama fries will become a family favorite.
Everything bulk
A lot of companies are coming out with their own brands of "everything but the bagel" seasoning, but it's quite easy to make at home. Combine garlic powder, onion powder, sesame seeds, poppy seeds, and a bit of salt, and you have an inexpensive seasoning that goes on, well, everything!

Jicama Everything "Fries"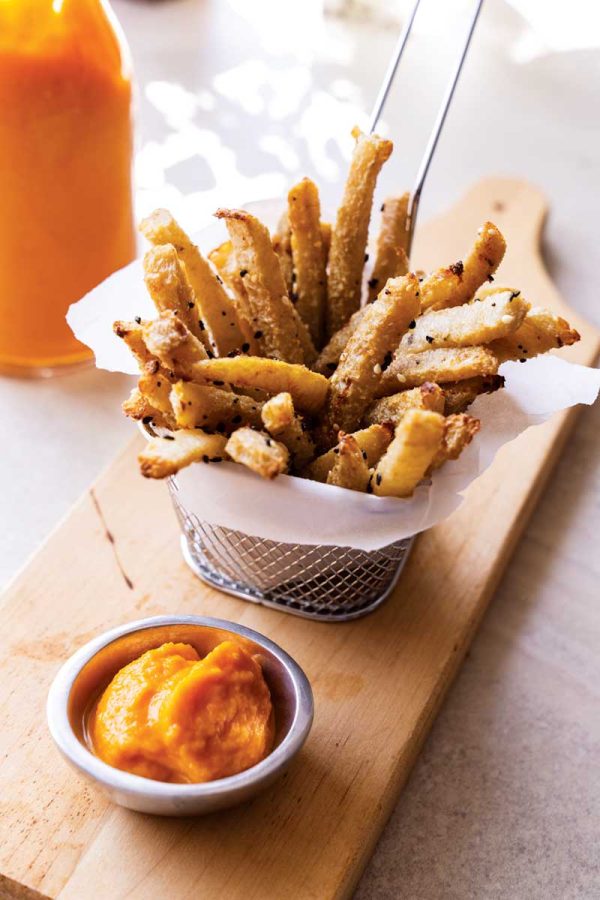 Preheat oven to 425 F. In large pot, bring water to a boil.

While waiting for water to boil, using sharp knife, remove tough outer peel of jicama, then the inside fibrous skin. Slice into 0.5 x 0.5 inch fries. Once water is boiling, add jicama fries to water and boil for 25 minutes. Drain and place on large parchment paper-lined baking sheet. You may need two sheets. Let jicama steam for 5 minutes to allow some of the water to evaporate. Toss fries with olive oil then sprinkle with "everything but the bagel" seasoning and toss lightly again to make sure jicama is coated evenly. Place in preheated oven to bake. After 15 minutes, toss, then place back in oven for an additional 15 minutes.

Plate as a snack with your favorite dipping sauce or as a side for any meal.
Per serving: 111 calories; 1 g protein; 5 g total fat (1 g sat. fat); 16 g carbohydrates (3 g sugars, 9 g fiber); 7 mg sodium