A winning taste for kids and adults. Ice pops are easy and fun to make, so use whatever vegetables sound good to you. If you don't have popsicle molds, use tiny paper cups and insert a plastic spoon for the handle.
Find more popsicle recipes here: 7 healthy frozen pops.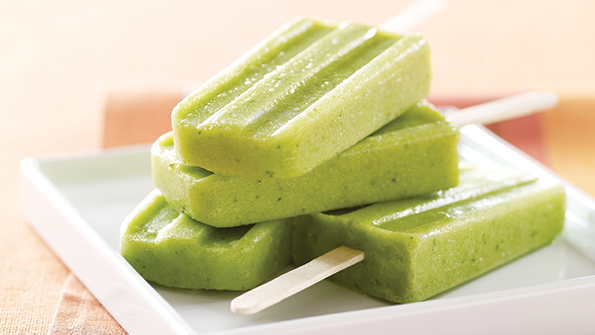 Combine spinach, kale, bananas, and pineapple into a blender; puree, and add water; puree a second time. Pour into pop molds, or small cups, add pop sticks, and freeze.
Nutrition Facts
Green Monster Pops
Amount Per Serving
Calories 78
% Daily Value*
Sodium 4mg 0%
Total Carbohydrates 20g 7%
Protein 1g 2%
* Percent Daily Values are based on a 2000 calorie diet.
78 cal, 0g fat (0g mono, 0g poly, 0g sat), 0mg chol, 1g protein, 20g carb, 2g fiber, 4mg sodium