Makes about 2 cups / Modeled after a fantastic sauce I had with lamb cubes at a Turkish restaurant in San Francisco, this all-purpose yogurt sauce hits many notes: sweet, sour, hot, salty, herbaceous, and that mysterious savory flavor the Japanese call umami. Serve with red bell pepper, jicama, and carrot slices; as a topping for baked potatoes; with grilled lamb, chicken, or tofu; tossed in tuna salad; or as a different and nutritious sandwich spread.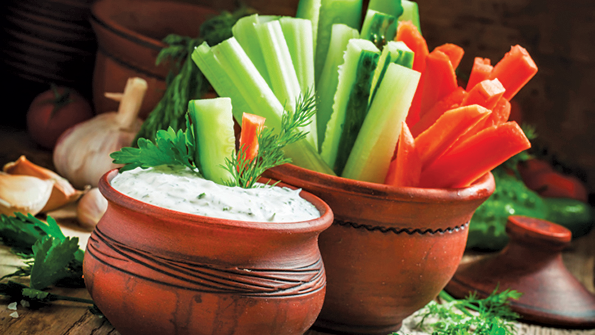 Mix all ingredients in a bowl. Refrigerate for at least 1 hour to allow flavors to blend.
Nutrition Facts
Five-Flavor Yogurt Dip
Amount Per Serving
Calories 28
* Percent Daily Values are based on a 2000 calorie diet.
Nutrition Facts Per Serving (1 tablespoon):
Calories: 28 calories
% fat calories: 68
Fat: 2g
Saturated Fat: 0g
Cholesterol: 0mg
Protein: 1g
Carbohydrate: 1g
Fiber: 0g
Sodium: 40mg